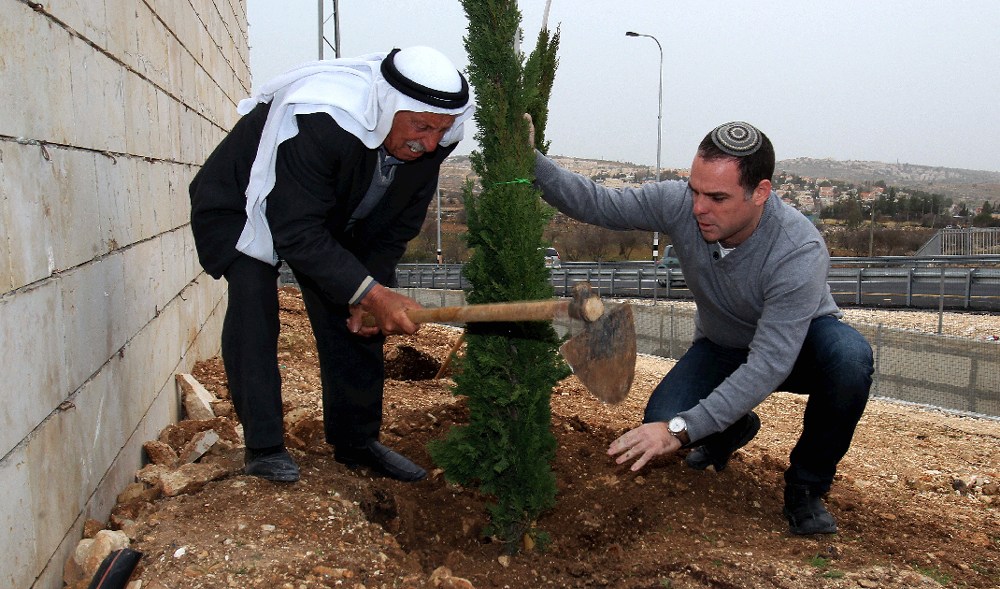 Ravivi and Abu-Taled on Tuesday
Photo: Haim Zach
School children from the Efrat settlement and residents of the neighboring Palestinian village of Jurat al-Shama planted trees together in an initiative that promoted co-existence in the West Bank, Yedioth Ahronoth reported Wednesday.

The event, held on the Jewish holiday of Tu B'Shvat, aimed to block the hazardous dust that is being disseminated by a nearby tree-processing plant.

Related stories:

The factory's owner and a resident of Jurat al-Shama, Abu-Taled, relented recently to residents' complaints and built a stone wall that blocked the dust; but the barrier proved bothersome to both the Palestinian and Jewish residents of the area.

When a new traffic circle was installed at the entrance to Efrat recently, Mayor Oded Ravivi decided to level the land between the plant and the settlement, and replace the wall with a small forest.

"We met with Abu-Taled, and agreed to plant a grove on Tu B'Shvat in order to block the dust," Ravivi said. "Abu-Taled was very enthusiastic, and promised to bring friends and employees.

"This is how we could fulfill the mitzvah while also tightening our ties and work towards peaceful co-existence," he said, refering to the Jewish custom of planting trees on the nature-oriented holiday.

According to Ravivi, the sides are currently considering the possibility that Efrat security personnel would guard the factory at night, as part of the effort to cultivate a neighborly relationship.