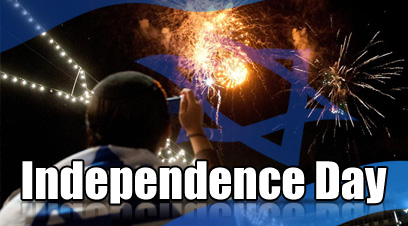 President Shimon Peres
Photo: Ohad Zwigenberg
President Shimon Peres is not a fan of the narrative led by Prime Minister Benjamin Netanyahu when it comes to Iran and the Holocaust – to put it mildly.
The comparisons to 1939 and Hilter do not sit will with him, either. Netanyahu's Holocaust Day speech made the president uncomfortable and those who spoke with him shortly afterwards said he was profoundly unhappy with the prime minister's rhetoric, which implied that the nuclear Iran would undoubtedly spell a second Holocaust for the Jewish people.
Related articles:
"It's not the same thing," Peres told Ynet in a special Independence Day interview. "Holocaust is one thing and Iran is another. The comparison is out of place. But I'm not a literary critic and the prime minister expressed his opinion on the matter.
"Every person can judge this for himself. I believe we can handle the Iranian threat. The United States leading and Europe joining (them) – it's not just lip service.
"They, like us, cannot afford to have a nuclear Iran and they want to stop it. As for Hitler – the world was asleep then. This couldn't happen today – the world has woken up."
The president also voiced his objection to a possible solo military strike by Israel. "Any military aspect is the Americans' to have," he stressed. "The world didn't have a military contingency in Hitler's time and today it does.
"Israel can defend itself but we are not alone – and that's a plus, not a minus. I believe what (US President) Obama says. There is no need for saber-rattling, but there is a need to impose sanctions and political pressure. Obama is serious and I believe him – he speaks of key US interests."
'Abbas a valid peace partner'
The president also rejects the premise – prevalent among the top ministers and especially Foreign Minister Avigdor Lieberman – that states that Palestinian President Mahmoud Abbas is not a suitable partner for either peace talks or a peace agreement.

He also dismissed claims suggesting that the negotiations have essentially failed, and said that he met with Abbas – a meeting Netanyahu knew of and was briefed about.

"I will not give up on this peace… I do what I can and despite the mistakes made, there is no alterative to peace. There is a basic truth that both people need and that is peace. I believe we have to take initiative and I believe we can reason with Abu Mazen."



Not one to hold back. Peres (Photo: Ohad Zwigenberg)
Peres believes that the current Palestinian leadership is the best Israel can hope for. "Abu Mazen is the most prominent Arab leader to speak out against war and for peace. So we must hold talks – direct and covert – and get to the point. We can argue about the prerequisites forever, but we have to talk.
"There is nothing that I'm saying here that I haven't told the prime minister. I'm a patient man and time is on our side. I remember Israel back when there wasn't one Arab who didn't want to throw us into the ocean. We shouldn't give up."
Good relationship with PM
Turning his attention to the issue of Jonathan Pollard, the president adamantly rejected the notion that he should refuse to accept the US Presidential Medal of Freedom from Obama, over the latter's refusal to release the convicted spy.

Over 10,000 Israelis citizens, including artists, political figures and academians have signed a petition urging Peres decline the honor.

"Will I be more suited to handle this issue if I refuse? I fail to see the logic. Will the fight to free Pollard be better served by my protest? I too grant some pardons, and some I refuse."

Since taking office, Peres has attracted criticism for failing to publicly criticize the government or the prime minister. But Netanyahu, he said, spends countless hours a month briefing him on state affairs.

Peres, it seems, has been able to hold his tongue regardless of how much he may disagree with Netanyahu. "I am not chairman of the Opposition and I respect the nature of my office. I have to be a unifying element.

"You can't say that I keep all of my opinions to myself, but I do so with decorum. I say things outright and I tell the public the truth. But I don't need to be hurtful about it. I hold nothing back."

Peres, who will soon celebrate his 90th birthday, seems in great spirits and unfazed by the grueling pace of politics.

"There is one thing you have to forego – resting," he told Ynet. "Resting is a waste of time. I get up every morning at 4 am, do some calisthenics and I'm at the office by 8 am. I rest about one hour a day and I work until 10-11 pm, sometimes even until midnight."
Receive Ynetnews updates directly to your desktop