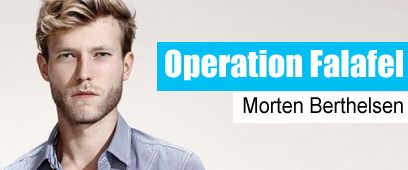 One of Morten's favorites. Hummus Beth Lechem
Photo: Morten Berthelsen
If ever an Israeli were to ask for hummus in Copenhagen, he would most likely be met with blank stares. And if he did manage to find a hummus joint, he would come face to face with a dense lump of spices, oil, and – of all things – cumin.

How It All Began

In new column, Danish journalist and model Morten Berthelsen offers fresh view on everything pertaining to Israeli food culture

In Denmark, hummus is purely a vegan thing. In Denmark, hummus exists only in the vegan's domain, a side dish for the soy, a punishing alternative.

A Dane visiting Israel, on the other hand, would be amazed by the dish that is used for absolutely everything, at all times.



Hummus in Denmark. Purely a vegan thing (Photo: Roy Yerushalmi)
My first encounter with hummus in Israel was to Mashausha on Pinsker Street in Tel Aviv. And now it's the first stop for visitors from home.
To me, it is the hummus experience. You wait for a table, get served quickly, tossed your side dishes: Pickles, onion, olives, and a killer green paste – a local variation of the Yemenite schug. And then you leave, pronto.
This is where I got my crash course in eating hummus, watching the locals using raw onion as a shovel (I thought it had been brought to my table by mistake). Even I now look on with a little shared shame at those who don't know the ancient method of "wiping" hummus. And God forbid I see someone putting hummus on their pita with a fork.
A pleasure. Hummus Abu Shukri in Abu Gosh (Photo: Morten Berthelsen)

While definitely a turn-off for some, I quite enjoy the concept of no-service. Even the rude can be rather charming – as a phenomenon, not as a rule: "Here's your damn dish, eat it, and get out."

It's definitely the chief attraction at Abu Hassan in Jaffa. The borderline nasty service is part of the experience, and in a strange way emphasizes the really important bit – the hummus.

The same can be said of the outstanding Lina in Jerusalem's Old City and Hummus Said in Akko, worth schlepping to for the hummus alone.

But the quaintest place I've seen is Karim Nazri in the Christian Quarter of the Old City of Jerusalem. It's so small that they barely have room to make their smooth, Arab-style hummus. If you want falafel, you have to order it from the place opposite and bring back to your table. Collective catering at its best.



Highly recommended. Hummus Abu Ghanem in Nazareth (Photo: Tom Lahat)

At the other end of the spectrum you have the hummus places that seem to forget what hummus is all about.

I am of course talking about such places as Hummus Bahadonas, which is to hummus what McDonald's is to burgers. A franchise feel with no real atmosphere, and, worst of all, it tastes like something you would buy at the supermarket.

Hummus Abu Dhabi is just as bad. Many friends recommended this to me, but going there with an old flame from back home as part of a tour of the local cuisine was a bad idea. We were given a strange, runny concoction that slid off the bread and had zero flavors.

Texture is key, folks. Smiley, quick service doesn't help if your hummus should be listed under the soups.



Hummus Beth Lechem (Photo: Morten Berthelsen)

But by far my most overrated and disappointing hummus experience in Israel is at Hummus Ashkara in north Tel Aviv. Why does anyone eat there? Why? Its dull and uninviting hummus matches the décor perfectly.

For some reason, Ashkara must be really confident, as it's just bumped up its prices to ridiculous levels. Which is strange, because you couldn't pay me enough to eat there again.

I could write thousands of words about the wonders of hummus – what it does to an onion, for starters; how it changes in taste and texture as you travel from place to place; how every single person in the country has their own special little joint that no one else has ever heard of. But I won't, except to say (as an adopted Tel Avivi) that you should try the Sudanese-owned Gan Eden on Allenby, Hummus Carmel in the Carmel market, and Hummus Beth Lechem on the corner of Florentine and Vital.

Yes, this piece is Tel Aviv-centric, but there will be more hummus to come. Much more, Inshallah.

B'Teavon!
8 hummus places included in Morten's travel guide
Abu Hassan, 1 Dolphin Street, Jaffa
Abu Shukri, 5 Mahmud Street, Abu Gosh
Abu Ghanem, Paulos the Sixth Street, Nazareth
Abu Ali, at the main entrance to Faradis
Mashausha, 40 Pinsker Street (corner of Bugrashov Street), Tel Aviv
Karim Nazri, the Christian Quarter, east Jerusalem

Lina, the Christian Quarter, east Jerusalem
Abu Adham ,Kfar Yasif

Next time: Morten is shocked by the supply of restaurants in the Negev and Dead Sea