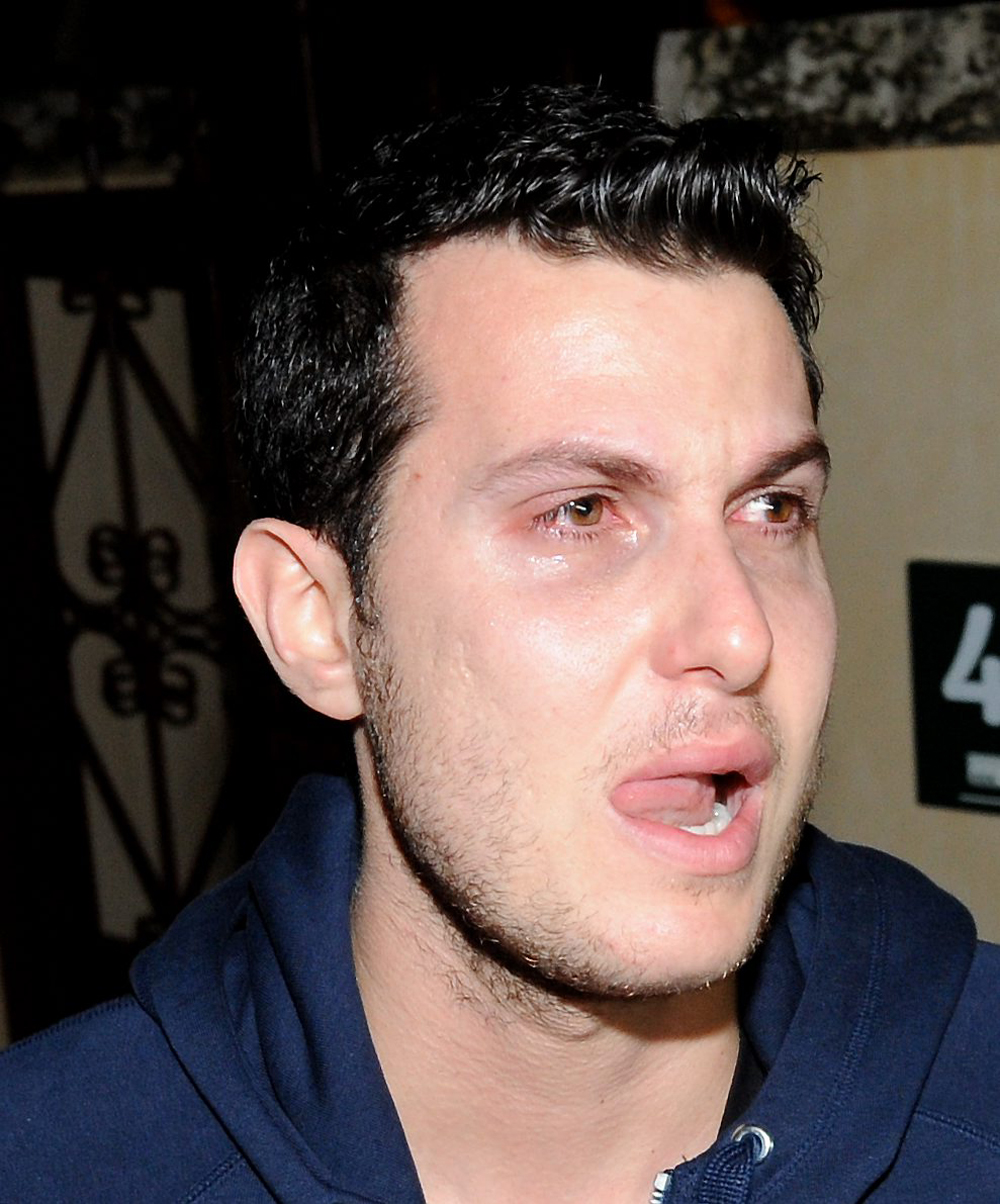 Guy Pnini. 'I'm ashamed of myself'
Photo: Yuval Chen

Hapoel Tel Aviv player Jonathan Skjöldebrand. 'It was humiliating'
Photo: Oz Mualem
VIDEO - The Maccabi Tel Aviv basketball club decided Monday night to impose a severe punishment on the team's captain, Guy Pnini, for calling a rival player "Nazi" and wishing him and his father cancer.

Video courtesy of jn1.tv

Following a long meeting with Pnini, the Maccabi management announced its decision to cancel his appointment as team captain until the end of the 2012/13 season, suspend him from all matches until further notice and impose a NIS 100,000 (about $26,000) fine which will be paid to a charitable organization.

Racism in Soccer

West Ham pledges to impose life bans after some of its fans heard making chants glorifying Hitler, praising Italian club Lazio after apparent anti-Semitic stabbing of Tottenham fan in Rome

The incident took place Sunday during a match against Hapoel Tel Aviv. According to Hapoel player Jonathan Skjöldebrand, "Guy Pnini called me Nazi throughout the game. He said, 'I hope you and you father get cancer in the head.' It was shameful, shocking.

"At first I thought I didn't hear him well, but he just kept repeating it. I didn't want to respond and make a big deal about it in the middle of the game, but it was shameful and humiliating."



Pnini faces press. 'These are not the values I was raised on' (Photo: Yuval Chen)

Pnini issued an official apology after the meeting, saying: "I would like to apologize from the bottom of my heart for the terrible things I said during the match. I apologize to Jonathan and his family, to my club Maccabi Tel Aviv, to all sports fans and to anyone who might have been offended by what I said.

"In addition, I would like to express my sincere apology to my family, which survived the Holocaust. I feel that I have failed the field of basketball, the club, the audience, and all the people I care about – especially myself.

"As a person who should set an example to young people and youth, and maintain the values I was raised on at home and at the club, I am ashamed of myself and of the way I acted. I will respect any decision made by the club and do anything to atone for the mistake I made."



Finding it difficult to hold back the tears (Photo: Yuval Chen)

Upon leaving the meeting, Pnini found it difficult to hold back his tears. He told the press, "It's been a tough day for the club and myself. We convened, the management and I, to discuss what happened. I explained what happened yesterday.

"It began with an amazing match, with a wonderful atmosphere and perfect preparations. At some point there was a sort of provocation between me and Jonathan. It's part of the game, and it was dragged out throughout the entire game both by him and by me.

"At the end of the day, the blatant response was mine and everyone saw it. I would like to apologize to Jonathan and his family, to apologize as a former captain of the club, and to apologize to the management and everyone involved in the team. I feel that I have shamed and humiliated them.

"This is not the club's spirit and these are not the values I was raised on. As a player in Israel's national team, I'm supposed to set an example and I would like to apologize to my family, most of which died in the Holocaust."
Maccabi chair: I didn't see the incident
Pnini added, "Whoever knows me knows that it's not me. I got into something I should have been dragged into… I will do anything to atone for this mistake and for the shame I brought on the club I grew up in."

Maccabi Tel Aviv issued the following statement: "Pnini explained to us that during the game Skjöldebrand provoked him verbally and physically, and in response Guy used blatant and completely inappropriate language against Jonathan.

"In addition, the comments were made in the heat of the game, and it is obvious that he had no intention of hurting anyone. Guy understands that the things he said are unacceptable and that nothing justifies such a response."

Maccabi Chairman Shimon Mizrahi said, "I didn't see the incident. I heard there was a video. I don't know what you saw. Guy's response was completely sincere. He is sorry and he understands that he failed."