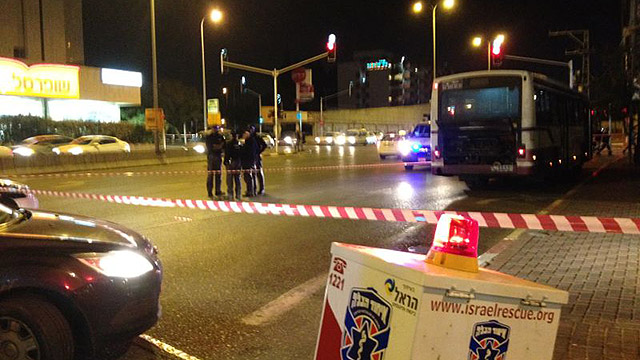 Bus driver attacked
"News 24" News Agency
An argument between two passengers on a bus resulted in an attack on the driver and shots being fired into the air.

The police arrested a man in Raanana on Tuesday after he allegedly attacked a bus driver with a box-cutter. The driver was not injured, and ended up firing shots into the air to scare the suspect off. The man attempted to escape but was apprehended by traffic police who were near the scene.

Related Stories

According to police suspicions, the incident began after an argument broke out between the suspect and another passenger over a seat on the bus, which had just exited the Raanana Central Bus Depot.

The driver, noticing the ensuing fight, pulled the bus over to the side of the road and tried to calm the situation only to come under attack himself.

The bus driver then got off the bus, but the suspect, following suit, got off the bus as well, followed the driver and attempted to attack him with a knife. In response, the driver pulled out his gun and fired three warning shots in midair.

The suspected then began fleeing the scene just as a traffic police squad car passed by and witness the event. A Border Guard patrol that was also in the area was alerted to scene as well and the two forces began a joint pursuit.

The forces eventually apprehended the man and took him into police custody for interrogation at a Kfar Saba police station.

At first, it was suspected that shots were fired at the bus, and hence a large number of police forces and paramedics were alerted to the scene, however afterwards it was learned that there we no injuries and that the driver did not require hospitalization additional medical attention.

The police are currently continuing their investigation into the event.
Receive Ynetnews updates directly to your desktop