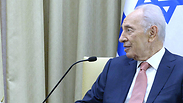 President Shimon Peres
Photo: Mark Neiman, GPO
President Shimon Peres urged China and other world powers on Thursday to keep up pressure on Iran as talks on implementing a landmark nuclear deal were set to resume in Geneva.
"The world, in which China is a major player, should help the Iranian people to divorce themselves from the policies of threats and hostilities to prevent (Iran) from acquiring nuclear capability," Peres said after meeting Chinese Foreign Minister Wang Yi in Jerusalem.
Related stories:
Peres said the international community shouldn't loosen its grip on the Iranian sanctions, but also reassured the Iranian people that Israel's policies were nothing personal.
"We do not view the Iranian people as our enemy," he said. "Our enemies are the policies and ideology driving the current Iranian regime."
Nonetheless, he noted that "We must maintain diplomatic pressure, ensure the sanctions regime remains effective to force Iran to comply with the inspections and limitations that the international community demands."
Talks between Iran and the P5+1 are set to resume, as the two sides look to implement an interim agreement in which Iran will curb its nuclear activities in exchange for a partial easing of sanctions.
The two sides will decide how to apply the initial Geneva agreement, as well as formulate procedures and set an implementation date for the first part of the agreement, Abbas Araqchi, a member of the Iranian negotiation team told National Iranian Radio and Television.
In the major diplomatic breakthrough in Geneva, the 5 +1 and Iran reached an agreement that provides for no new sanctions against Iran during an interim period of six months, during which Tehran agreed to freeze the development of its nuclear program.
Israel and Western nations have long suspected Tehran of using its civilian nuclear program as a cover for developing a nuclear weapons capability, while Iran insists the program is entirely peaceful.
Israel sees Iran as its greatest threat and has not ruled out military action to stop Tehran's drive for nuclear weapons.
Receive Ynetnews updates directly to your desktop