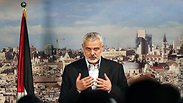 Gaza PM Haniyeh
Photo: Reuters
Ismail Haniyeh, prime minister of Gaza's Hamas-run government, has invited Palestinian President Mahmoud Abbas to hold talks regarding the possibility of forming a unity Palestinian government, Palestinian news agency Ma'an reported.

In a speech at a Gaza City conference, Haniyeh said disaccord among Palestinians was playing into Israel's hands and hence it was necessary to agree on the political agenda of such a unity government and work towards its formation.

Related stories:

"The only battle our people should fight is against occupation," Haniyeh was quoted by Ma'an as saying. "We should not be fighting any battles against Egypt or Ramallah or others. "

Ma'an further noted that Haniyeh reiterated his demand that the core purpose of such a unity government was to protect the resistance and the "nonnegotiable principals," a hinted jab at Abbas's willingness to negotiate with Israel, possibly over the issues of refugees and Jerusalem, which are show stoppers for Hamas.

The Hamas leader said the meeting and the mutual agenda should be formulated in accordance with a reconciliation agreement reached during the previous round of talks between the two sides held in Cairo in 2012.

Haniyeh was also quoted by the Ma'an report as saying the two sides could work to put ideas into action that would improve the situation in both Gaza and the West Bank.

According to Ma'an, the riff between the Palestinian factions plays into Israel's hands and "encourages the Israeli occupation to continue." Palestinian rivalry, Haniyeh said, should be replaced by national unity and reconciliation.

Hamas spokeswoman Israa al-Mudallal told Ma'an that Abbas has not yet agreed or refused to form a unity government with Hamas, nor hold such a meeting. "The pressure is on the Palestinian Authority," Mudallal said. "Haniyeh has been calling for an agreement. "

The two main rival Palestinian parties – Fatah and Hamas – have always had tense relations, especially since when Hamas beat Fatah in during the last election held among Palestinians for their legislative body in 2005.

The situation further deteriorated when violent Hamas-led clashes resulted in Fatah's ouster from the Gaza Strip, thus effectively ending the Palestinian Authority's sovereignty in the impoverished enclave.
Receive Ynetnews updates directly to your desktop