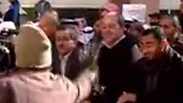 Moment of attack with hot tea, Thursday
Photo: Channel 1
Less than 24 hours after throwing scorching-hot tea at Knesset Member Ahmad Tibi, an indictment against a 47-year-old Beersheba resident was filed with the city's Magistrate's Court in an accelerated procedure Friday. The suspect is charged with assaulting a public servant.

The incident took place on Thursday during a protest held by dozens of Negev residents against the Prawer Bill in front of the Beersheba Magistrate's Court. The defendant also attempted to set himself on fire in July 2007 in front of the Beersheba Municipality.

Related stories:

The defendant's brother sent a message to MK Tibi: "I turn to Tibi, my brother is not racist and is not a bad man. He is not of sound mind and spent nearly 20 years in prison. He was jailed and released for minor offenses, he is unaware of himself. In the past he harmed himself and tried to set himself on fire in front of Beersheba's municipality, but was stopped. He must be given mental health care. His arrest and prison is not the place for him."

MK Tibi splashed with hot tea (Video: Chanel 1) (צילום: ערוץ 1)

"It is a mistake to arrest him. He is not healthy. He was in prison for a long time and went through difficult times, he must be under supervision. He must be taken care of," the defendant's brother added.

The defendant's lawyer, attorney Tal Arad of the Public Defender's Office, claimed that his client is well-known to social services. "He is a sick man and he did not commit the deed from improper or racist motives."

The attorney said that a request to send the suspect to psychiatric observation has been submitted.

The Channel 1 documentation of the assault shows the defendant approaching the United Arab List-Ta'al MK and spilling boiling-hot tea on him. Police forces detained the suspect, and Tibi reported a burning sensation in his eyes.

"There is no doubt that the right-wing's incitement against Arab MKs has an effect… The attack on me is the result of rising racism and inciting against Arab MKs specifically because of the Prawer affair. I don't fear death threats, spit, or hot tea, and I will continue to raise my voice in protest. It is severe that a public figure is physically attacked because of their position," said Tibi after the incident.

Knesset Speaker Yuli Edelstein commented on the event Thursday evening and told MK Tibi that "everyone has right to protest, but no one is allowed to cross the line and take justice into their own hands."
Receive Ynetnews updates directly to your desktop