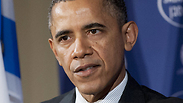 President Barack Obama
Photo: AFP
At an end-of-the-year White House press conference, President Barack Obama reiterated his position and strategy for dealing with Iran's nuclear aspirations: "It is my goal to prevent Iran from obtaining a nuclear weapon… I'm keeping all options on the table, but if I can do it diplomatically, that's how we should do it."

Obama said that he believed his strategy was supported by the voters: "I would think that would be the preference of everybody up on Capitol Hill, because that sure is the preference of the American people."

Related stories:

The American president, who oversaw the withdrawal from Iraq and is negotiating an exit strategy with Afghanistan, repeated his reason for pursuing a diplomatic solution with the Islamic republic, "It is very important for us to test whether that's possible, not because it's guaranteed, but because the alternative is possibly us having to engage in some sort of conflict to resolve the problem with all kinds of unintended consequences."

While the press conference focused mainly on domestic issues and the president's popularity, Obama answered the Iran question thoroughly, explaining again why he believed the Geneva agreement was in America's interest: "We lose nothing during this negotiation period. Precisely because there are verification provisions in place, we will have more insight into Iran's nuclear program over the next six months than we have previously."

Obama emphasized that the Geneva deal provided a forum for "a serious conversation" about the possibility of Iran acceding to international pressure and restricting its nuclear program to peaceful, civil purposes.

The final press conference of the year took place moments before the president and his family boarded Air Force One on their way to a Christmas vacation in Hawaii.

Before leaving, Obama addressed new calls for sanctions against Iran by a number of legislators from both sides of the aisle: "There is no need for new sanctions legislation. Not yet. If Iran comes back and says, we can't give you assurances that we're not going to weaponize… it's not going to be hard for us to turn the dials back, strengthen sanctions even further. We can do that in a – in a day, on a dime."

"But if we're serious about negotiations, we've got to create an atmosphere in which Iran is willing to move in ways that are uncomfortable for them," he said.
Ratings low
Obama left for his birth state of Hawaii with his popularity at a low according to a CNN poll. The president's approval ratings sunk to 41% despite an avalanche of positive economic data – with which Obama opened the press conference.

The president fielded a question about the CNN poll, answering: "I have now been in office five years… we have had ups and we have had downs. I think this room has probably recorded at least 15 near-death experiences."

The journalist pushed the point regarding Obama's unpopularity, but the president calmly replied, "I guess what I'm saying is if you're measuring this by polls, my polls have gone up and down a lot through the course of my career."

Obama said his administration's focus in 2014 will remain as global as it is local. The agenda includes the removal of Syrian chemical weapon stock, a comprehensive agreement with Iran regarding its nuclear program, and the withdrawal of combat troops from Afghanistan.

On the economy, the president noted that for the first time in two decades, the US is producing more oil at home than it is purchasing from abroad.

Before jetting off Obama fielded questions about amnesty for Eduard Snowden and the success of the Affordable Care Act. He declined to discuss the former because Snowden is under indictment, but vigorously defended the latter, saying: "You're right, the health care website problems were a source of great frustration."

But, he said, "On the other hand… I now have a couple million people, maybe more, who are going to have health care on January 1st. And that is a big deal. That's why I ran for this office."
Receive Ynetnews updates directly to your desktop