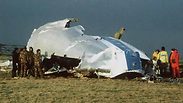 Lockerbie bombing
Photo: Reuters
British public broadcaster, Channel 4, revealed explosive new information Friday. According to its report, senior Syrian officials claimed that the Popular Front for the Liberation of Palestine–General Command (PFLP-GC), led by Ahmed Jibril, were behind the Lockerbie bombing in 1988.
For almost two decades the responsibility for the bombing was placed on Libya. Now a transcript from 2001 of an interview with CIA asset Dr. Richard Fuisz at a courthouse in the US exposed the culpability of the Palestinian terror organization.
Related stories:
Fuisz claimed that during the years 1990-1995, between 10 to 15 senior Syrian military officials told him the Syrian-based PFLP-GC was responsible. According to his testimony, Syrian officials were in constant contact with the organization's leader, Jibril, and that he was the mastermind behind the bombing.
Fuisz was testifying at the request of Abdel Basset al-Megrahi's defense attorney – the Libyan terrorist charged with the crime.
According to the British report, the information was presented too late to be used in al-Megrahi's trial, which wrapped up a few days after the testimony. Al-Megrahi was an intelligence officer in dictator Muammar Gaddafi's service; he was sentenced to life in prison by Scotland but was released on compassionate grounds in 2009.
Al-Megrahi died of cancer in May 2012.
Three CIA agents and a lawyer were present for Fuisz's testimony, assuring he answer as few questions as possible. Copies of testimonies and related documents were uncovered by John Ashton, a researcher with al-Megrahi's defense team between 2006 and 2009.
Ashton wrote a book about the affair titled Scotland's Shame: Why Lockerbie Still Matters.
The British report claimed that Jibril's organization was the primary suspect in the aftermath of the bombing.
Declassified American intelligence reports claimed the organization was paid by the government of Iran to avenge the deaths of 290 passengers killed when an American battleship accidentally shot down Iran Air flight 665 over the Persian Gulf several months before the bombing.
Members of the PFLP-GC were arrested in West Germany two months before the bombing. During the search of their residence police found an explosive charge inside a Toshiba cassette player. The Lockerbie investigation discovered that the explosive device on the plane was hidden inside a Toshiba cassette player.
"The British and American governments declared in 1991 that Libya was solely responsible for the bombing, yet for years after senior Syrians were saying that the PFLP-GC was responsible," said Ashton, "It seems it was an open secret that the real bombers lay outside Libya"."
The Lockerbie bombing occurred on December 21, 1988. Pan Am flight 103 from London to New York exploded over the skies of Lockerbie, Scotland killing all passengers. There were 11 casualties on the ground, killed by the plane fragments.
In 2003, Libya accepted the responsibility for the bombing. Gaddafi's regime agreed to pay $2.7 billion in compensation to the victims' families.
Receive Ynetnews updates directly to your desktop