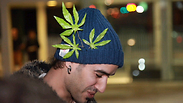 'Stop the abuse of patients and the persecution of citizens'
Photo: Motti Kimchi
More than a thousand people participated in protest calling for the regulation of marijuana in Israel Saturday night.

The protest was held under the slogan "putting an end to it. Stop the abuse of patients and the persecution of citizens" (the word 'putting' in Hebrew is similar to the word drugs) and was the largest show of force the legalization movement has put forward yet.

Related stories:

Protesters holding signs reading "legalization now, we are not criminals" and "live and let live" made their way from Tel Aviv's Habima Square to Rabin Square.

The event was a held jointly by those attempting to ease restrictions on medical marijuana and those calling for legalization of the plant for recreational purposes, as well as those supporting a Meretz bill which calls for the decriminalization of marijuana intended for personal use.

Shahaf Brendker, one of the organizers said "the protest has two goals, to change the public conception of cannabis and to support the bill proposed by MK Moshe Feiglin (Likud ) and MK Tamar Zandberg (Meretz). We demand reasonalization (not legalization per se), because the current situation is devoid of any reason if a law abiding citizen who causes no harm to anyone will constantly live in fear and persecution because he smokes a joint after a long day at the office.




"Those who need it for medicinal proposes also cannot get any because the Interior Ministry has decided so."

According to protesters, millions of shekels are invested in arresting and prosecuting law abiding citizens, thus burdening the system instead of funding it through taxed marijuana. They further called for an expansion of medical marijuana in Israel, with some recalling the amazing effects it had on the ill.

A. from Bnei Brak said: "I am a manic-depressive and take cannabis on a daily basis for more than three years. I take it instead of traditional medicine and since I have begun, it has changed my life. The law must be changed, no one can tell me not to use something created by God."

MK Tamar Zandberg was also present at the protest and said "We have already seen Knesset members admitting they have smoked. They know what the reality is, and I think its time to adjust the law to fit reality."
Receive Ynetnews updates directly to your desktop