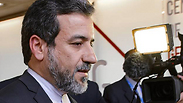 Technical talks between Iran and world powers on how to implement a landmark nuclear deal clinched last month are making progress, but slowly, a senior Iranian negotiator said Saturday.

The negotiations began Thursday in Geneva on the accord reached in the Swiss city that is aimed at buying time for a diplomatic solution to a decade-long standoff over Iran's nuclear drive.

Related stories:

"The talks that extended to a third day are making progress but slowly," deputy foreign minister Abbas Araqchi, who himself is not attending the talks, told a state-run television network in Tehran.

Araqchi did not give any other details.

The official IRNA news agency cited him as saying the negotiations could stretch into a fourth day on Sunday.

Experts had held four days of inconclusive talks in Vienna last week, but the Iranians walked out after Washington expanded its sanctions blacklist against Tehran.

Iran agreed to resume the talks after saying it was give given an "assurance" by EU foreign policy chief Catherine Ashton, who represents the six powers, that the talks would continue in good faith.

Under the landmark deal struck on November 24, Iran agreed to roll back or freeze parts of its nuclear drive for six months in exchange for modest sanctions relief and a promise by Western powers not to impose new sanctions.

During this period, which has not yet begun, Iran and world powers will seek to hammer out a long-term comprehensive accord to allay suspicions that Tehran's nuclear activities mask a military objective.

Iran denies the charge, saying its nuclear work is solely aimed at peaceful purposes of generating energy and producing medical isotopes.
Receive Ynetnews updates directly to your desktop