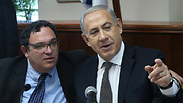 Benjamin Netanyahu and Shai Piron at the cabinet meeting, December 22, 2013.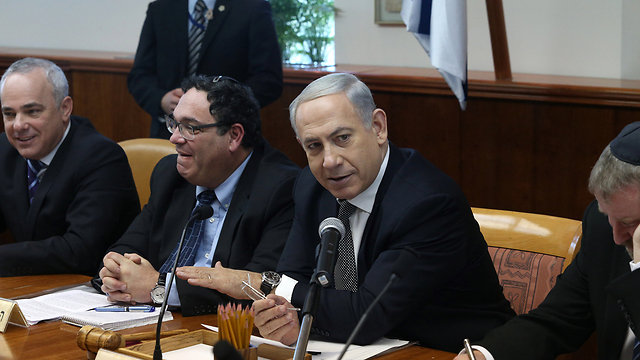 ישיבת ממשלה שבועית בנימין נתניהו ירושלים
Photo: Amit Shabi
Prime Minister Benjamin Netanyahu on Sunday repeated the long-standing Israeli request for the United States to free Jonathan Pollard, jailed in the US in 1987 for spying for Israel, saying that he was constantly working to "bring Jonathan home".

The call comes on the heels of revelations that the American National Security Agency (NSA) has been monitoring correspondence and phone calls of Israeli political leaders, although the prime minister declined to connect efforts to secure Pollard's release with the new disclosures.

Related articles:

"We do not need any special event in order to discuss the release of Jonathan Pollard. We are dealing with it. I am dealing with it, with all US presidents, including President Obama, all the time, including now," Netanyahu said during his weekly cabinet meeting in Jerusalem.

"We hope that the conditions will be created that will enable us to bring Jonathan home. This is neither conditional on, nor related to, recent events, even though we have given our opinion on these developments."

The US government rented an apartment on the same Tel Aviv street as Ehud Barak 's home, shortly after his 2007 appointment as defense minister. Washington insisted there was no causal link between Barak's appointment and the move to rent the apartment, despite the fact that Israeli intelligence detected sizable amounts of electronic equipment delivered to the US-owned apartment.

Documents revealed over the weekend in the international media confirmed Israeli suspicions that the NSA and Britain's General Communications Headquarters (GHCQ) had been intercepting email traffic of previous Israeli leaderships during 2008-2009, when Barak was defense minister.

The reports, by Der Spiegel, The New York Times and The Guardian, said the offices of Netanyahu and Ehud Olmert were also being monitored during their respective stints as prime minister.
Receive Ynetnews updates directly to your desktop