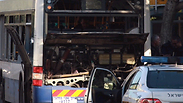 Bus Blast
Photo: Motti Kimchi
A policeman was lightly hurt in an explosion Sunday on a bus in Bat Yam, near Tel Aviv, as sappers were working to defuse a bomb in a bag. The dozen passengers on bus no. 240 had been evacuated by the bus driver beforehand, when it became clear that an unclaimed bag with visible wires was a possible danger.
"After examining the explosives retrieved from the scene, we have concluded that this was a terrorist attack," police spokesperson Micky Rosenfeld said.
Related stories:
"An investigation has been opened and our forces have been deployed in the area to try to identify suspects," he added. Police had said earlier that a sapper was examining a suspicious object found on the empty bus in the seaside town of Bat Yam when it exploded, but was unhurt.
The driver of the bus had spotted an unattended bag on board, stopped the vehicle and ordered passengers to disembark, Rosenfeld said.
The police officer was taken to Edith Wolfson Medical Center in Holon, following the explosion on the bus, which had been making its way from Bat Yam to Bnei Brak. The bus had stopped at the junction of Mivtza Sinai and Katznelson streets when the blast took place.
The aftermath of the blast (Video: Motti Kimchi) ( צילום: מוטי קמחי, אתר יפו 48)
Itzik Ben Aharon, director of the Magen David Adom rescue service for the Ayalon district: "At 14:35 we received a call that there had been an explosion on a bus, and we immediately jumped into the ambulances. When we arrived, we found one person with light injuries, who was suffering from ringing in his ears. We treated him and sent him to Wolfson."
The driver, Michael Yagur, told Ynet that he quickly realized that the large, black knapsack could contain a bomb.
The spokesperson for the Dan Bus Company, Eitan Fiksman, said one of the 12 passengers on the bus alerted the driver that there was a suspicious object on the bus.
"The passenger opened the knapsack and saw wires. The driver stopped, called the police and told the passengers to get off."
"One of the passengers told me there was a bag on the bus. I asked who it belonged to but no one claimed it. I ordered the passengers off the bus at the next stop and about 10 minutes later the bus exploded."
Fiksman said a member of the bomb squad performed a controlled detonation of the object.
Eli Senyor, Michal Margalit and AFP contributed to this report
Receive Ynetnews updates directly to your desktop