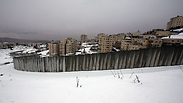 Security barrier
Photo: AFP
A Palestinian was seriously injured Monday night by IDF fire in the northern Gaza Strip, Israeli and Palestinian sources said.
Earlier in the day, an Israeli policeman was stabbed by a Palestinian in the settlement of Adam, just north of Ramallah, thus joining a slew of security incidents that have plagued Israel and Palestinians over recent days.
Related stories:
The terror attacks threaten to break already shaky peace talks led by the US. Meanwhile, the Palestinians have rejected the possibility to extend the talks past the nine-month time frame.
A spokesman for emergency services in Gaza confirmed that a 27-year-old Palestinian was shot and seriously wounded not far from Gaza's Beit Lahiya.
An IDF spokesman confirmed the report and said that soldiers fired on a "suspicious individual who attempted to place an explosive device near the security fence in the northern Gaza Strip. "
"A policeman was seriously wounded by a Palestinian who stabbed him at the entrance to (the Jerusalem area settlement of) Adam," said Police Spokesman Mickey Rosenfeld, adding that the police "searched the area to arrest the suspect."
Incidents between Palestinians and Israelis have increased in frequency recently. A "terrorist" attack Sunday targeted a bus in Bat Yam causing no casualties but leaving one police officer lightly wounded, Rosenfeld reminded.
One Palestinian was killed Friday by Israeli fire in northern Gaza and another was shot Saturday in the southern part of the enclave adding more fuel to the fires of escalation.
Finally, a rocket fired from the Gaza Strip was launched early Monday morning at the Hof Ashkelon Regional Council area in southern Israel without causing any casualties or damage .
Deputy Defense Minister Danny Danon (Likud),said that the "recent events show us that terrorists are trying again to threaten the lives of Israeli citizens. "
"In any other country, when a bus explodes and the next day a policeman is stabbed, it would not release terrorists as a goodwill gesture next week," said Danon, referencing Israel's commitment to release an additional 26 Palestinian prisoners as part of ongoing peace talks with the Palestinians.
Israel must release 26 Palestinian prisoners on December 29 under the laborious peace negotiations with the Palestinians.
No extension for talks
Earlier Monday, Palestinian leaders have ruled out the possibility of extending peace talks with Israel beyond their nine-month timeframe, chief negotiator Saeb Erakat said on Monday.
"We turn down any extension," Erakat told the official Voice of Palestine radio station, adding that some of his recent remarks about the matter had been misinterpreted.
"I said that if we reach an agreement on all final status issues, we could continue to discuss the details," he said.
At a dinner with journalists on Wednesday, Erakat had raised the possibility of talks being prolonged for up to a year if parties agree on key issues by the time the current talks wrap up on April 29. The US State Department welcomed his statement, while saying the nine-month schedule still remained in place.
At an Arab League meeting in Cairo on Saturday, Palestinian president Mahmoud Abbas "stressed his rejection of all partial and temporary solutions and that the solution should resolve all final status issues, within nine months which cannot be extended, expiring April 29," said Erakat.
During this meeting, the pan-Arab bloc gave "its full support to the Palestinian position," the Palestinian negotiator told the radio station on the phone from Qatar. The group also rejected proposed security arrangements offered by the US in a bid to address Israel's security concerns.
Outgoing Palestinian negotiator Mohammad Shtayyeh said Thursday that the talks "are not going to take us anywhere."
"The Israelis want to replace occupation by force with occupation by an invitation, with our signature, and it will never happen," he added, calling on the international community to intensify pressure on Israel.
US Secretary of State John Kerry managed to revive the Israeli-Palestinian talks on July 29 after a three-year hiatus.
Receive Ynetnews updates directly to your desktop