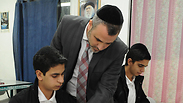 Netivot school for religious youths
Photo: Yisrael Yosef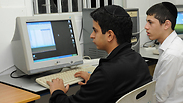 Netivot school for religious youths
Photo: Yisrael Yosef
"There's no other place in Israel like this one," explained Motti Elbaz, principal of the Netivot Le'Hatzlacha (Paths to success) technological-religious school in Netivot in the northern Negev.

The school is an oddity in the Israel education system because on one hand it belongs to the religious (as opposed to secular) school system, but on the other, it does not confine itself to solely religious studies and culture, offering its pupils classes on technology and encouraging the Orthodox students to enlist in the IDF.

Related stories:

"Our school allows children who have dropped out of the yeshiva system to continue their studies within a haredi framework, get an education and eventually enlist in the IDF," the principal added with pride.

Netivot technological-religious school (Photo: Yisrael Yosef)



(Photo: Yisrael Yosef)

"We have kids with attention problems who need to learn at a different pace, and these are problems that those in the haredi sector don't know how to treat," said Rabbi Hanina Friedman, the director of Pa'ar HaChinuch (education gap) Foundation in Jerusalem, which funded and founded the school.

These students are often pushed from one yeshiva to the next until the schoolmasters are fed up with failures, at which point many such students may find themselves on the street.

The school offers a sort of salvation – an answer – for kids who, needing to fend for themselves on the street, are arrested for breaking and entering, stealing, and acting violently. The answer provided by the school and Netivot's police: Project Israeli Police for the Youth.

"The first instance which we were exposed to in Netivot was about a year ago," said Sergeant Major Avner Avrahami who instituted the program in Netivot. First Sergeant Aryeh Lev, youth team leader at the Netivot station, said: "A young haredi boy turned to a local policeman for help. He said he didn't want to steal but he had no choice because he was too ashamed to keep asking his friends for food."

The police hope that due to the special connection between the children and the program, these troubled youths will choose to serve as part of the police force when they are of age, as many other graduates of the project have done.

On Tuesday there will be a ceremony marking the current class' graduation. It will precede the Knesset vote over Yesh Atid's proposed enlistment bill which will force every 18-year-old to enlist into either the IDF or civil service regardless of religious or educational background. In Netivot, they have already proven that you can have it all.
Receive Ynetnews updates directly to your desktop