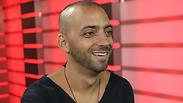 Idan Raichel. 'It's a measure of the big embrace we are receiving from the audience'
Photo: Yaron Brener
Israeli musician Idan Raichel, known for his Idan Raichel Project, has scored yet another impressive international achievement: His latest album, "Quarter to Six," has been included among the 10 Best World Albums on iTunes, Apple's online store.

Raichel is reaping the fruit of his hard work abroad in the past few years, which includes many performances in world music festivals with his project, in small places too.

Musical Ambassador

Israeli singer completes successful 10-day concert tour in Rwanda, Ghana and Angola

"Quarter to Six" was released in March and was sold around the world in a version similar to the Israeli one, apart from a CD booklet in English.

"This is a very exciting moment," Raichel said in response. "The point is to present to the world the soundtrack of the place you come from. There is no need for any adaptation. This was a very interesting year. I think that our audience has grown."

The singer-songwriter recorded a major achievement in the Israeli market as well for selling 100,000 copies from his latest album. Since releasing the first project, exactly 11 years ago, he has sold 560,000 copies from his five albums in Israel, an impressive number which does not include album sales abroad.

"We are not motivated by the level of achievements," he says. "It's just a measure of the big embrace we are receiving from the audience. It's a great privilege to reach people through music."

Raichel became a father four weeks ago with the birth of his daughter, Philipa Helena Damaris. In February he will have to get used to missing her, when he goes on his concert tour in Europe.

"Many people ask me whether I will continue the world tours now that I've become a father, and I think that I definitely will. My musical fulfillment must continue on the same line, alongside the family fulfillment."