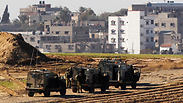 Gaza shooting scene
Photo: Reuters
The Israeli Air Force launched a strike on a Gaza Strip target on Tuesday, in retaliation for the shooting and killing of an Israeli civilian by sniper fire near the Gaza border fence in southern Israel.
According to Palestinian reports, more than 10 IDF airstrikes were lauched in which two people were killed, including a three-year-old girl – Khala Sabiha. Six people sustained injuries.
Related stories:
Gaza sources reported that the IAF bombed several targets in the strip.
Three-year-old killed in Gaza (צילום: רויטרס)
One of the IAF strikes had reportedly hit an
Izz ad-Din al-Qassam Brigades
base west of Khan Younis. According to the reports, no Palestinians sustained any injuries.
A military source said: "We are delivering messages according to which we have no intention of allowing escalation, but the Gaza division is preparing for the possibility of escalation."
Hamas spokesperson Mushir al-Masri blamed Israel for the escalation, saying that resistance factions in Gaza were deliberating on means of retaliation.
Isam Daalis, an advisor to Hamas Prime Minister Ismail Haniyeh, said that the group was holding meetings with Egypt regarding escalation in the Gaza Strip, in attempts to restore calm to the region.
Following the shooting that claimed the life of an Israeli citizen, Prime Minister Benjamin Netanyahu said: "This is an extremely serious incident, and we will not stand idly by. Our policy up until now has been to thwart and retaliate with force, which is exactly what we intend to do in this case."
Defense Minister Moshe Ya'alon also responded to the killing of an Israeli citizen, saying "We will retaliate forcefully and painfully to this shock to our sovereignty and harm to our civilians and soldiers. If there is no peace in Israel, there will no peace in Gaza."
Ya'alon added that "as long as the Palestinian Authority continues instigate against the State of Israel and its citizens and does not encourage a culture of peace, we will be forced to deal with terror attacks. This is an intolerable state of affairs as we see it.
Elior Levy contributed to this report
Receive Ynetnews updates directly to your desktop