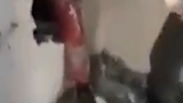 Palestinians found hiding in sealed room
Photo: Police Spokesperson
Border Guard officers found on Monday three Palestinians without permits to reside in Israel hiding inside a room that was closed shut in a construction site in Ashkelon.

The officers were looking for illegals in the Ashkelon site following intelligence information.

Related stories:

Israel Ben Hammo, the commanding officer of the operation, told Ynet: "We scoured six structures that are under construction. At some point, we arrived at a structure in which there was a room without any entrance – no window and no door. We heard someone whispering from inside and realized there were people who are staying illegally in Israel hiding inside."

Palestinians found behind wall (Video: Police spokesperson) (צילום: חטיבת דובר המשטרה)

According to Ben Hammo, "the challenge we were facing was how we could enter the room without any entryway." He noted that the only window in the room was sealed shut with concrete.

The Border Guard officers used a wooden board to make a hole in the wall, where they found three Palestinians hiding. The three had most likely closed the room shut from within.

In a nearby construction site, several suspects were found hiding in a hole in the ground, and during the day some 15 Palestinians without permits were detained in the site.

The operation, taking place in south Israel, has thus far led to the nabbing of 31 illegals and eight employers.

"Residing illegally in Israel could be used as a platform to hostile terror activity and is therefore one of our most important tasks," said Border Guard's Southern Unit Asher Levy.
Receive Ynetnews updates directly to your desktop