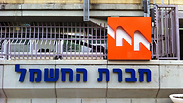 Israel Electric Corporation
The Palestinian Authority has begun to pay back the money it owes the Israel Electric Corporation (IEC), Calcalist has learned. The debt, accumulated by West Bank and east Jerusalem residents stands at NIS 1.1 billion, the Electric Corporation claims.
According to Calcalist, the Ministries of Finance and Energy have expressed concern that the debt will continue to rise, reaching NIS 1.3 billion by the end of the year, thus posing a heavy financial burden for the Electric Corporation.
Mounting Debt
Electric Corp management says it will pursue series of measures, including property and tax money confiscation, initiated blackouts in West Bank, Gaza in attempt to collect NIS 700 million debt
According to an examination conducted by Calcalist, the PA's debt stands at NIS 1.167 billion, with approximately NIS 410 million attributed to residents of the West Bank and the remainder to Electric Corporation in East Jerusalem.
IEC admits that the Palestinian Authority has began to pay its debt in small doses, but unfortunately will still end the year with a debt of more than NIS 1 billion, and it is yet to be unclear how
they will cover this sum.
It is to be noted that IEC cannot cut off PA's residents' power without first receiving full political backing, no easy task at a time in which US Secretary of State John Kerry is pushing Israel and the PA to reach a political settlement.
IEC said in response that "the PA has not paid the full amount of their debt to the Electric Corporation and their monthly payments cover only a small portion of what they owe. The company is working to collect the entire debt."
Meanwhile, the Knesset's Economics Committee extended the IEC's permit for another year Tuesday.
This is a regular – not to say disgraceful – ritual repeated annually for the past five years. The reason for extension is technical: The IEC cannot provide power without having the proper authorization.
The Electricity Sector Law enacted in 1996, it should be noted, states that the Electric Corporation should be privatized. The bill determines that their license should expire by 2009, but as previously noted, the privatization was not carried out, and the state is forced to extend their operation license each time anew.
In two more months, the Yogev Committee chaired by the CEO Government Corporations Authority Uri Yogev is supposed to formulate an outline for the company's general reform.
Receive Ynetnews updates directly to your desktop