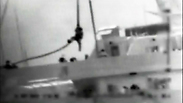 Marmara raid, 2010
Photo: AP
Turkish court rejected the compensation plea of family members of Furkam Dogan, a Turkish citizen who was killed in 2010 during an IDF raid on the Mavi Marmara flotilla to Gaza, the Hürriyet Daily News reported Wednesday.

Dogan's family motioned the Turkish court, demanding compensation of 4 million Turkish Liras ($1.9 million) for his death.

According to the judges, the claim was rejected because Israel could not be tried in Turkish court.

Related stories:

The family is expected to appeal the decision, according to the head of the Humanitarian Relief Foundation's, Saban Sözduyar, who added: "No persecution by any country, especially Israel, should remain unanswered."

Israel and Turkey have been holding talks regarding compensation to victims of the raid. Turkey's Hürriyet Daily News quoted a diplomatic source saying the talks are "almost finalized."

On March 22, Prime Minister Benjamin Netanyahu formally apologized to his Turkish counterpart Recep Tayyip Erdogan over the killing of nine Turkish citizens on board the Mavi Marmara vessel, which was carrying pro-Palestinian activists trying to breach Israel's naval blockade of the Hamas-ruled Gaza Strip. Netanyahu also agreed to compensate the families of those killed in the raid.
Receive Ynetnews updates directly to your desktop