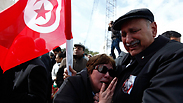 Protests in Tunisia
Photo: Reuters
"Wear a hijab by the end of the week or we'll take you out of the school and drag you by force to the main road," teachers in a school in southeastern Tunisia recall being threatened by a radical Salafi group.
The organization, "Deterrence Gang," is a branch of the larger Ansar al-Sharia. Three years after the country started the Arab Spring, fundamentalism in the country has only grown.
Related stories:
The principal who received the letter by mail handed it over to security forces in Tunisia.
"To our brother, the school principal," the letter opened. "After it has been made clear that promiscuity and lack of acceptance of Allah's authority is continuing in your school, in order to remove these abominations and apply the will of God, we ask you to tell your female teachers who dress immodestly, as well as those belonging to the camp of the infidels, that they wear hijabs. We are worried that our daughters will imitate them."
The story has caused a major uproar in the country and in the media. A teacher that put on a veil said in an interview how tense and fearful the environment was in the school since the letter was sent, especially amongst the students.
In an interview with a Djerba region station, one teacher who did not wear a head-scarf said she did not expect anything like this to happen, especially in a profession that is considered incorruptible in Tunisia.
The Deterrence Gang's letter was not the only one, though. A month ago, a principal from a school in the center of Tunisia said that teachers who did not wear a hijab in his school also received threatening letters.
Electoral problems
Since the Islamist al-Nahda party's victory in the 2011 elections, radical groups have been getting stronger. They have been trying ever since to force all women to wear the hijab. Moderate parties, however, are not keeping quiet, and are warning that this type of behavior is bound to damage the electoral process that has been working in the meantime.
Despite the Salafi movements becoming stronger, al-Nahda has been troubled lately by its inability to form a new constitution for the North African country. In recent days, a caretaker government has been appointed, and new elections are likely to take place early next year.
Receive Ynetnews updates directly to your desktop