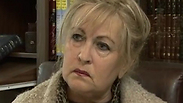 Bella Freund
Photo: Avi Peretz
On May 13, 1992, Bella Freund shot to fame in Israel, for better or for worse, when she acted as a human shield for a Palestinian terrorist facing an angry mob.

Twenty-one-year-old Adnan Afandi from Bethlehem had just stabbed and wounded two Israeli youths in Jerusalem and was fleeing the scene - and the dozens chasing him - when he encountered Freund. She lay on top of him until security forces arrived to arrest him.

Related stories:

It is thanks to Freund that Afandi, now jailed in Israel, is still alive. And he could well go free next week in the third of four waves of Palestinian prisoner releases by Israel. But even Freund, who saved his life, does not want him or the other terrorists released.

"He came to stab Jewish children. I, as a civilian, gathered all my strength and did what the law required of me, and I delivered the terrorist to the authorities. They took him, tried him, and now they're freeing him. It cheapens the rule of law, and makes me feel that the country is betraying its citizens. It sends a very bad message."

Freund, now in her 70s and still living in Jerusalem surrounded by her children and grandchildren, has not forgotten one minute of that incident more than 20 years ago.

"I spoke to him. I protected him. Someone (in the crowd) told me 'if you don't move, I'll shoot you'. Eventually the police came, rescued me and arrested him."