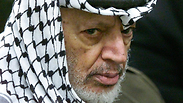 MOSCOW - The chief of Russia's medical and biological agency says its probe into the death of Palestinian leader Yasser Arafat has found no indication of radioactive poisoning.

Russia's state news agencies quote Vladimir Uiba, the head of the Federal Medical and Biological Agency, saying that its research has found that Arafat's death nine years ago was "natural and not caused by radiation."

Related stories:

Teams of scientists from France, Switzerland and Russia were asked to determine whether polonium, a rare and extremely lethal substance, played a role in Arafat's death in a French military hospital in 2004. Palestinians have long suspected Israel of poisoning him, which Israel denies.

A team of experts, including from Lausanne University Hospital's Institute of Radiation Physics, opened Arafat's grave in the West Bank city of Ramallah in November 2012, and took samples from his body to seek evidence of alleged poisoning.

The Swiss forensic tests showed that Arafat was poisoned to death with radioactive polonium, his widow Suha said after receiving the results. She called Arafat's death "a political assassination."

A French study later ruled out the results of the Swiss tests.

Reuters contributed to this report.