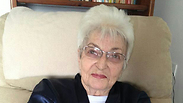 Lucy Mandelstam
Photo: Irit Lerner
A Holocaust survivor has expressed her horror at Israel's use of numbers instead of names for 153 African migrants in court proceedings against them.

"It's shocking that our state is using numbers," 87-year-old Lucy Mandelstam told Ynet. "It's not right, and it's humiliating."

Related stories:

The state used the numbers in an appeal against a court ruling that it did not have the authority to continue with the detention of the migrants, currently held in a facility in southern Israel.

The state has indicated that it would add the names of the 153 at a later date and had decided to use numbers due to time constraints.

Mandelstam, who now lives in Tiberias, survived three concentration camps and has the infamous number tattoo used by the Nazis on her forearm.

She recalled how at the age of 16 she was sent to Thereisenstadt concentration camp, in what is today the Czech Republic. She was there for a year and a half before she transferred to Auschwitz. "I was there for three months and then I went to Stutthoff (in what is now Poland)," she says.

When she heard about the numbers used by the state of Israel, Madelstam said: "What do you mean they gave people numbers instead of names? I wouldn't want them to treat someone as a number and not a name."

Mandelstam's daughter, Irit Lerner, adds: "It's outrageous. The whole concept of taking a person and turning them into a number raises the sensitive question of who we are. I am not even talking about the act of explusion (of the refugees) itself, which repulses me given that we are a nation of survivors and drifters. I don't understand which genius even thought of using numbers."