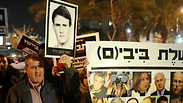 Protest against prisoners' release, Thursday
Photo: Motti Kimchi
Dozens of protesters rallied outside the Kirya in Tel Aviv Thursday evening against the expected release of Palestinian prisoners next week. The protesters, including bereaved families, blocked traffic on Kaplan Street for several minutes with the approval of the police. They chanted "Jewish blood is not cheap" and held signs reading: "Shame on you — only in Israel murderers are released"
Oren Tamam, brother of soldier Moshe Tamam who was murdered in 1984 at the Beit Lid junction, said: "This is a despicable move on part of the Israeli government. In the past months, we can see that instead of peace and quiet, there is an upsurge in acts of terror."
Related stories:
"There is no feeling of confidence on the streets. Instead of coming to his senses and bringing things to a stop, the prime minister decides to release terrorists."
The bereaved brother added that his brother's killers are "not in a prison, but rather in a sanatorium. One of them earned a bachelor's degree. There is no doubt that they will decide to release them as well."
Protester holding Photo of late IDF soldier Moshe Tamam (Photo: Motti Kimchi)
"The ministers in Jerusalem are deaf to our concerns. For them this is another insignificant decision that they can't even remember on the following day. We live in daily pain. The prime minister needs to understand that we are not giving up. I don't see him as the representative of the State's people, because 80% of these citizens are against the release of terrorists. He is forgetting who his nation's people are and who sacrificed their life for the benefit of this country."
Sign reading 'Shame on you' (Photo: Motti Kimchi)
Gila Molcho, sister of Ian Feinberg who was murdered in Gaza 20 years ago was also present at the protest Thursday. "I'm here to be his voice," she said. "The High Court told me that I had no right to speak because I'm not the injured party. My brother can't speak up anymore and whoever says that I'm not the injured party does not know what bereaved families and devastated parents are."
(Photo: Motti Kimchi)


(Photo: Motti Kimchi)


(Photo: Motti Kimchi)


(Photo: Motti Kimchi)
Meir Indor, chairman of the Almagor Terror Victims Organization, told Ynet: "We addressed the prime minister today, requesting him to meet with the bereaved families. It is inconceivable that in a time of such pain, people will be ignored.
"We intend to appeal to the High Court next week. We will try to do everything we can to stop this disgrace, for the sake of those who are no longer with us and for the future of other families. The Minister of Defense criticized the release in private meeting held before he was appointed. Since he is the person responsible for the safety of soldiers, he is also responsible for the memorial of these soldiers. He's the one who should be protesting here."
Ynet has learned from Israeli officials that the third round releasing Palestinian soldiers will not take place on Sunday, as was previously planned. The postponement is due to technical difficulties.
Following the publication of the list of prisoners' names to the public, the State must provide a 48-hour extension allowing the public the option to appeal the decision to release prisoners before the High Court.
According to the plan, 26 out of 104 Palestinian prisoners whose release was agreed upon prior to negotiations between Israel and the Palestinians, will be freed. Fifty two prisoners have already been released in two rounds in recent months. Twenty two terrorists, Arab-Israelis and residents of East Jerusalem, will probably be released only in the fourth and final batch, thus in the upcoming days, 26 out of 31 prisoners will be released — including four Gazans.
Elior Levy and Attila Somfalvi contributed to this report.
Receive Ynetnews updates directly to your desktop