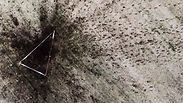 Rocket remnants in Israel, Wednesday
Israeli Air Force jets attacked several targets in the Gaza Strip following the launching of a rocket towards Israel earlier Thursday. The rocket landed in an open field and did not cause injuries or damage.
IDF attacked weapons production and storage centers through two strikes in northern Gaza and one in central Gaza.
Related stories:
Palestinian sources in the Gaza Strip reported that IAF jets struck, among other targets, a target within Gaza City. The reports further claim that IDF struck an outpost of Hamas' military wing in northern Gaza.
The Palestinians are reporting that one man was injured lightly to moderately in the IAF strikes in Gaza City. According to the reports, Hamas has instructed all of the organization's offices and buildings to be evacuated.
Earlier Thursday, a red alert siren sounded in Israeli communities near the Gaza border and military systems located rocket remnants in an open field. There were no injuries or damage in the event.
Prime Minister Benjamin Netanyahu said at an IAF pilot graduation ceremony that "Israel holds Hamas responsible for all the attacks launched on us. We will strike at those who attack us, and at those who support them," he said in remarks that were also broadcast on radio."
Defense Minister Moshe Ya'alon said the incidents in the West Bank and Gaza Strip – which are ruled by rival Palestinian governments – were unrelated, calling them "atmosphere attacks." But he promised that Israel would respond nonetheless.
"This is an unacceptable situation for us and despite the difficulty of dealing with an individual assailant who is incited to kill Jews, we will act with force and in other ways to harm those who try to carry out attacks," he said.
The series of IAF strikes Thursday evening follow a similar series of strikes carried out on Tuesday. The operations in Gaza earlier this week were carried out following a shooting attack in which a border worker was killed. Palestinian reports claimed a toddler was killed in the strikes.
Yoav Zitun and Matan Tzuri contributed to this report
Receive Ynetnews updates directly to your desktop