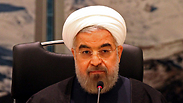 Rohani receives support as talks set to start anew
Photo: MCT
The top foreign adviser to Iran's supreme leader Ayatollah Ali Khamenei has called for new direct talks with the United States amid the multilateral negotiations over Iran's nuclear program.

The remarks Friday by Ali Akbar Velayati signaled a high-level endorsement of the policies of President Hassan Rohani, whom hard-liners have criticized over last month's nuclear deal and other contacts with the US.

Velayati says Iran should talk separately with each of the 5+1 powers, which include the United States. "We aren't on the right path if we don't have one-on-one talks with the six countries," he said, according to the semi-official Mehr news agency.

Related stories:

Experts from Iran and world powers will on Monday resume technical talks on implementing a landmark nuclear deal after a Christmas break, both sides said Friday.

Abbas Araqchi told the official IRNA news agency that the discussions with the six major world powers are to resume in Geneva.

"The technical discussions between Iran and the 5+1 group will resume Monday in Geneva... to define modalities for implementing the agreement" struck on November 24, he said. The negotiations are aimed at setting a framework and a timeline for the nuclear accord.

A spokesperson for EU foreign policy chief Catherine Ashton also confirmed that the talks will resume on Monday in Switzerland.

"Technical experts meeting with Iran will take place on December 30 in Geneva," spokesperson Maja Kocijancic told AFP via email.

Iran has already held two sets of talks with representatives from Britain, China, France, Russia, Germany and the United States.

The last round concluded in Geneva on December 22 after little progress was made, according to Iranian Foreign Minister Mohammad Javad Zarif.

Araqchi, who is also deputy foreign minister, said at the time the discussions were progressing slowly because of "interpretations" of points of the agreement.

Under the Geneva accord, Iran agreed to roll back or freeze parts of its nuclear drive for six months in exchange for modest sanctions relief and a promise by Western powers not to impose new sanctions.

Western powers suspect Iran's nuclear activities mask military objectives, despite Tehran's repeated insistence that they are entirely peaceful.