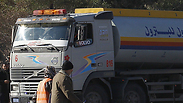 Fuel truck at Kerem Shalom crossing (Archives)
Photo: AFP
The Gaza Strip's only power plant returned to life after Israel resumed fuel deliveries on Sunday, a Palestinian official said, two days after a lack of supplies halted electricity production.

"The plant resumed functioning with the provision of fuel, which restarted with the reopening in the morning of the Kerem Shalom crossing," the official told AFP.

Related stories:

The power plant stopped working on Friday due to the closure of the border crossing where goods transit between Israel and the besieged Palestinian enclave.

The Israeli decision to close the crossing came after a Palestinian sniper shot dead an Israeli man working near the border between Israel and the Gaza Strip.

The plant, which supplies some 30 percent of Gaza's electricity needs, fell silent on November 1 as stocks of diesel ran out.

The power station returned to life on December 15 after receiving a delivery of fuel purchased from Israel by the West Bank-based Palestinian Authority using funds donated by Qatar.

The PA helped facilitate the delivery via Israel, which the Islamist Hamas rulers of Gaza do not recognize.

An Israeli security official denied the closure of Kerem Shalom was responsible for the lack of fuel at the power plant, saying it was a result of a conflict between Hamas and the PA.

But Gisha, an Israeli non-governmental organization that lobbies for freedom of movement for Palestinians, accused Israel of carrying out mass punishment of civilians in Gaza by closing the crossing.
Receive Ynetnews updates directly to your desktop