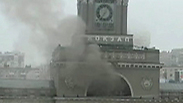 Sunday's attack at Russian train station
Photo: AP
Russia's Emergency Situations Ministry says at least 14 people have been killed in a bus explosion in Volgograd, a day after a suicide bombing that killed at least 17 at a railway station in the city.
Russian investigators said they believe a male suicide bomber carried out the attack.
"It is now possible to preliminarily say that the explosive device was set off by a suicide bomber - a man whose body fragments have been collected and sent for genetic testing," the federal Investigative Committee said in a statement.
Related stories:
The explosions put the city on edge and highlighted the terrorist threat that Russia is facing as it prepares to host the Winter Games in February. Volgograd is about 650 kilometers (400 miles) northeast of Sochi, where the Olympics are to be held.
The National Anti-Terrorism Committee said the bus explosion came from a bomb that most likely had been placed in the vehicle's passenger area, but there were no further details. The Emergencies Ministry said at least 10 people were killed and news reports said anywhere from 15 to two dozen people were hospitalized.
The explosion ripped away much of the bus's exterior and broke windows in nearby buildings.
There was no immediate claim of responsibility for either explosion, which came several months after Chechen rebel leader Doku Umarov called for new attacks against civilian targets in Russia, including the Sochi Games.
The federal Investigative Committee and other officials initially said a female suicide bomber had blown herself up Sunday after a police officer started to approach her near the metal detector because she looked suspicious.
Terror attack on Russian city bus, Monday (Photo: Reuters)


(Photo: Reuters)
A Russian website with ties to security agencies, Life News, posted a picture of what it said was the suspect's head.
It said authorities had identified her as a resident of Dagestan, the province adjacent to Chechnya and now the centre of a long-running Islamist insurgency, and the widow of two militants who were both killed by Russian security forces.
The US State Department issued a statement saying that the United States "condemns in the strongest terms (Sunday's) terrorist attack in Volgograd."
"We send our sincere condolences to the families of the victims and stand in solidarity with the Russian people against terrorism of any kind," it said.
UN Secretary-General Ban Ki-moon and the UN Security Council both condemned the attack on Sunday and called for the perpetrators to be brought to justice.
Reuters and AP contributed to this report