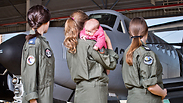 Female IAF pilots
Photo: Tal Shachar
The Israeli Air Force has decided to let pregnant pilots keep flying.
Follow Ynetnews on Facebook and Twitter

It was 15 years ago that the first woman graduated from the Air Force Flight Academy, and since then, many other high-quality women have reached the same prestigious stage. Now these pilots will only have to take a minor pregnancy recess to keep up with their male counterparts.

Related stories:

According to the recent change in policy, women will no longer be grounded if they're pregnant. Despite the potential threat of flying while pregnant, the IAF's medical unit has decided that women can be part of the aircrew under conditions and regulations that will minimize their risk and guarantee a safe flight.

Flying during the 15th to 25th week of the pregnancy will be allowed for transport flights that are up to four hours long, under 8,000 feet, and accompanied by another pilot.

Before boarding the plane, the pregnant pilot will undergo a full check-up, and once a month she will visit an aviation medical examiner.

"In 1995, the first women cadets flew in their inaugural flights, and ever since the Air Force has gone a long way to integrate women," Dr. Lieut. Col. Yifat Erlich, the commanding officer of the IAF's medical unit, said. "There are women fighter pilots, and their needs have to be addressed." It is noted that foreign Air Forces also include pregnant pilots within their operation teams.