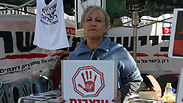 Last attempt to stop release
Photo: Gil Yohanan
Almagor Terror Victims Association appealed to the High Court of Justice Monday morning in a final attempt to stop the third release of Palestinian prisoners.
Follow Ynetnews on Facebook and Twitter

As part of the framework to negotiations with the Palestinians, 26 prisoners are expected to be released Monday night.

The organization said Prime Minister Benjamin Netanyahu took back his promise to hold a special deliberation on any further release of prisoners who were Israeli citizens. Five residents of East Jerusalem, with blue Israeli ID cards, are expected to be released Monday evening.

Related stories:

The organization also asked in its petition to the court that it would release an injunction that would indefinitely postpone the release until a final court decision was made. Lawyer Naftali Vertzberger, who is representing Almagor, said "the appeal wasn't submitted lightly, considering the court's perseverance in its stance that it will not interfere in political decisions."

Almagor representatives said they were appealing because the ministerial committee deviated from its outline to release killers that were found guilty of multiple charges of murder, and to release five East Jerusalem residents, ignoring the damage it will have on Jerusalem.

'It gives terror a tailwind, which is what happened in the previous releases," they said.

The organization's lawyers said in regards to the release of two prisoners, one who was found guilty of four counts of manslaughter and the other with 16 counts of murder, that it was unreasonable that they would be returning home.

"The public's endurance in Israel can't take it and doesn't need to accept the early release of those who slaughtered innocent people, time after time," they said. "This low point, to release prisoners for political needs, stains and damages the moral degree of the State of Israel and its judicial system."

Elichai Ben Yishai, the brother of Ruth Fogel, who was murdered with her husband and three of their children in a terrorist attack in Itamar three years ago, came to the court to support the appeal.

"I'm embarrassed of our leaders' lack of justice, which is embodied in their tramping on all the State's values, which includes the premise that someone who killed won't walk around freely, and certainly not in the State's territory," he said.

"This isn't just the struggle of victim families, this is being shouted from our mouths and the mouths of those murdered," Ben Yishai said. "I feel that tomorrow they could also let go those who killed my family – the Fogel family. And that would definitely cause a public uproar."

Ben Yishai said all of the prisoners who are expected to be released took innocent blood.

Yaakov Tobol, the father of Lior Tobol, who was killed by terrorists, said he felt the case was hopeless.

"My feeling is that we're standing up against hermetic walls, but we still want to fight," he said. "My son's killer served me food in a steak restaurant in Jerusalem. I'm afraid he's going to wait on me again. I won't be able to stand something like that."
'Two birds with one stone'
Almagor CEO Meir Indor said the Palestinian Authority doubly benefited from the release.
"The Palestinian Authority killed two birds with one stone," he said. "They get the prisoners back and they get a dramatic change in Israel's stance in regards to a unified Jerusalem. The government is letting the PA in the back door to Jerusalem, sponsoring East Jerusalem residents against the legislation that unified Jerusalem."
Israel Police have approved Almagor's protest march, which will go from the Prime Minister's Residence to Jaffa Gate. The organization had originally planned to march to the terrorist Ahmed Khaled's house, who is expected to be one of the released prisoners.
The Israel Prison Service is preparing for the release of the prisoners. Similar to past releases, the terrorists will be released 48 hours after their names are published, which won't be before midnight between Monday and Tuesday. The late night release is designed to minimize the picture of a valiant PA, and to prevent large gatherings to welcome back the prisoners.
On Monday morning, the prisoners were transferred to Ofer Prison where they will undergo a final security examination.
Security representatives said the chances of the prisoners returning to their terror activities is low.