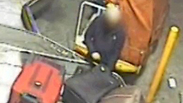 A member of Ben Gurion International Airport's ground crew was arrested after he was documented stealing from luggage.

The 62-year-old man was arrested Monday for allegedly looting passengers' suitcases he was charged with supervising as they were loaded onto aircraft.

The man's job was to examine suitcases being loaded onto planes lifting off from the airport, to make sure they had the proper sticker and fit the designated flight.

Related stories:

During the investigation he was filmed opening the very same bags he was charged with overseeing and stealing their content. Investigators believe he stole goods worth thousands of shekels.

CCTV footage of theft (צילום: מצלמות אבטחה)

In recent days, airport management received numerous complaints of thefts from their luggage. One of the passengers even claimed his wallet was stolen.

In wake of the complaints, a special unit from the airports internal security began to investigate one of the airport's workers whom they suspected was behind the thefts.

As part of the investigation into the suspected culprit, a resident of Or Yehuda, surveillance equipment was installed to better follow his actions.

The resulting video revealed his mode of operation. The investigation revealed that he used stolen credit cards to shop in the airport's duty-free shops as well as fill his car with gas.

He was arrested with the help of airport police and during interrogation he incriminated himself. He was released on bail and barred from entering the airport.