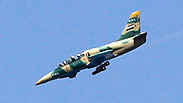 Syrian air force plane
Photo: Reuters
The Lebanese army fired on Syrian aircraft that violated the country's airspace Monday, the first time Lebanon has done so since the Syrian civil war broke out nearly three years ago, security officials said.
The move suggests Beirut is trying to enforce greater respect for its borders in the hopes of slowing the expansion of the conflict into Lebanon, where it has exacerbated sectarian tensions and prompted shadowy groups to conduct attacks that have killed dozens this year.
Also on Monday, Yedioth Ahronoth reported that the IDF believes that some 300 Hezbollah men have been killed fighting on behalf of the Syrian regime, in an example of the complex relations the two nations share.
"According to our estimates over 300 of the organization's operatives were killed so far, including those whose deaths were not reported," a source in the IDF said.
Related stories:
"Furthermore, thousands of the organization's members are working for Assad, including top commanders," the official added. The IDF source also noted that "Hezbollah's resources are being damaged."
Lebanon Now reported that in his most recent speech from a week and a half ago, Hezbollah chief Hassan Nasrallah said that media reports on party casualties in Syria were greatly exaggerated.
Lebanese officials said the military fired anti-aircraft guns at two Syrian helicopters after they fired four missiles in a mountainous, barren area close to the eastern Lebanese town of Arsal.
Syrian aircraft have frequently conducted strikes near the frontier, sometimes hitting Lebanese territory. Beirut has protested but not responded with force.
The officials spoke on condition of anonymity because they weren't authorized to speak to the media.
A Lebanese military official could not confirm the report, but said the army has orders to shoot anything – planes, tanks or troops – that violate Lebanese territory. The official spoke on condition of anonymity in line with policy.
There was no comment from the Syrian government.
Local security officials said the Syrians were chasing rebels who were trying to sneak into Lebanon. Communities on the Lebanese side of the border dominated by Sunni Muslims have become safe havens for rebels battling the rule of Syrian President Bashar Assad.
Syria's three-year conflict has grown increasingly sectarian as it wears on. The rebels are largely from the Sunni majority. Religious minorities, including Shiites, support Assad or have remained neutral, fearing for their fate if Muslim hardliners come to power.
Those loyalties are reflected in Lebanon, where Sunnis generally support the rebels, and Shiites – such as Hezbollah – support Assad.
The Associated Press contributed to this report