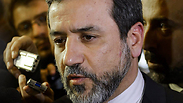 Six world powers and Iran have made good progress in expert talks in Geneva on how to roll out last month's landmark nuclear deal which obliges Tehran to suspend its most sensitive atom work, a senior Iranian official said on Tuesday.

It was unclear how close the seven countries came to resolving all the numerous practical issues involved in putting the Nov. 24 accord into practice or whether they had agreed on a date to implement it after all-night talks.

Abbas Araqchi, Iran's deputy negotiator, told Iran's state news agency only that some issues remained to be agreed at a more senior level.

Related stories:

Western countries led by the United States fear that Iran's nuclear work has military goals and have imposed years of crippling sanctions on Iran in an effort to force Tehran to curb its nuclear program.

Iran denies seeking to build an atomic bomb and says its nuclear work is aimed at power generation and medical research.

The Geneva gathering was the third time since Nov. 24 that nuclear experts and sanctions specialists from the United States, Russia, China, France, Britain and Germany had met their Iranian counterparts to work out the implementation of the breakthrough nuclear accord.

In the meeting, which lasted nearly 23 hours and ended at 7 am, the sides again sought to agree how exactly Iran would meet its obligation to suspend some uranium enrichment and how western governments would ease sanctions in return.

"The last meeting ... resulted in good progress," Araqchi was quoted by IRNA as saying. "The experts will present their reports to deputies and political directors because some of the remaining issues need to be resolved at the political level."

Officials from the European Union, which coordinates contacts with Iran on behalf of the six nations, declined to comment immediately.

So far, a key sticking point appeared to be how much prior notice Iran will give Western governments that it is meeting its end of the deal before they lift the agreed sanctions.

Araqchi said it was likely he would meet Helga Schmid, the deputy to the European Union's foreign affairs chief, Catherine Ashton, to discuss some issues further next week.

The technical talks started on Dec. 9 but Iran broke them off briefly after the United States blacklisted additional 19 Iranian companies and individuals under its existing sanctions.

Iranian officials said the move violated the spirit of the deal but US officials said it did not breach the agreement.