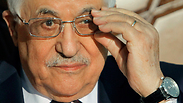 Palestinian president Mahmoud Abbas threatened diplomatic and legal action against the "cancer" of Israeli settlement building, a day ahead of a visit by US Secretary of State John Kerry.

"We will not remain patient as the settlement cancer spreads, especially in (east) Jerusalem, and we will use our right as a UN observer state by taking political, diplomatic and legal action to stop it," he said during a speech in Ramallah to mark the 49th anniversary of the founding of the Fatah party.

Related stories:

Abbas said that the Palestinians "will agree to anything that fulfills their demands and rights" during negotiations with Israel, "but will not hesitate to refuse any diplomatic offer that compromises Palestinian national interests, regardless of pressures."

"We have entered negotiations amid Israeli escalation on all fronts -- the Israeli army steps up its hostilities against the Gaza Strip and in the West Bank, leading to the killing of dozens of citizens in the last few months," said Abbas.

"These actions show a lack of seriousness on the Israeli side in the negotiations and threaten to destroy the two-state solution."

Kerry is due in the region on New Year's Day for his 10th visit since becoming the United States' chief diplomat in March, in an effort to revive faltering talks.

Kerry's myriad obstacles to an agreement in the US-brokered talks which began in July include the issue of settlements and Israel's insistence on maintaining a military presence in the Jordan Valley under any peace agreement.

Israel has announced thousands of new Israeli settler homes on Palestinian territory in the West Bank and east Jerusalem since the talks began, often in tandem with the release of veteran Palestinian prisoners.

The Palestinians and the international community have slammed Israel's continued settlement building on land the Palestinians want for their future state.

Kerry will have to quell tensions that rose after an Israeli ministerial committee on Sunday gave initial approval to a bill annexing Jordan Valley settlements, a largely symbolic move expected to be shot down by the government.

Abbas reiterated total rejection of Israel's demand to maintain a military presence in the Jordan Valley, where the West Bank borders Jordan.

"We have said that the Palestinian people is the one most in need of security, and is the one who needs guarantees of protection against the aggression of the occupation (Israel) and the settlers."

Elior Levy contributed to this report.
Receive Ynetnews updates directly to your desktop