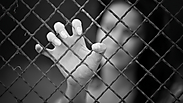 Woman 'chained' to her marriage
Photo: Shutterstock
A man who fled to the United States without granting his wife a divorce has been extradited to Israel by the American authorities.

This is the first time an Israeli citizen is extradited over denial of a "get" (a religious divorce under Jewish Law), which is not considered a criminal offense – using other offenses he is suspected of. Israel's rabbinical courts hope this will serve as a precedent which will significantly help fight the phenomenon of "agunot" (Jewish women "chained" to their marriage).

The couple, who are members of the ultra-Orthodox sector from central Israel, were married several years ago and had a boy and a girl. In 2010 the woman filed for divorce, claiming that her husband was treating her with disrespect and contempt, and had invested huge sums of money from their joint account in failed businesses without her knowledge.

Held Captive

While civil court in US approves Gital Dodelson's divorce from Avrohom Meir Weiss, husband uses religious 'get' as weapon, demanding $350,000 and joint custody over their son in exchange for his wife's freedom. 'I can't give you a get — how else would I control you?' he reportedly tells her

During the tough divorce proceedings, the woman's sister told the court that the man, her brother-in-law, had sexually abused his minor son and her – when she was a minor. Before the police had a chance to question him on suspicion of sex offenses and pedophilia, the man escaped abroad under a stay of exit order, using his brother's passport.

The Rabbinical Courts Administration's Agunot Department began searching for the man, who was located shortly afterwards in the US by a private investigator. Yet all attempts to convince the man to return to Israel and grant his wife a divorce were in vain.
Same process to be applied in future cases
Rabbi Eliyahu Maimon, head of the Agunot Department, asked the Justice Ministry's Department for International Agreements to work to extradite the man, who he said posed a risk to public safety as a suspected pedophile. The department, which does not usually ask for extradition over suspicions which have yet to be looked into, decided to proceed with the request due to the get denial and launched negotiations with the American authorities, which bore fruit last week.

The divorce recalcitrant was arrested in the US last Thursday. He was brought to Israel the very next day and placed under house arrest. After failing to show up for a court discussion of the divorce case on Sunday, he was imprisoned.

On Tuesday he was brought into the court but still refused to grant the divorce, and the judges are now considering stepping up the sanctions against him.

Rabbi Maimon told Ynet that he had reached an understanding with the Justice Ministry's Department for International Agreements that it would use suspicions of different criminal offenses in order to ask for extradition in similar cases involving a man who flees abroad without granting his wife a divorce.

"The long arm of the rabbinical court will eventually reach every husband, anywhere in the world, and offer relief to those agunot who are still in desperate need of a normal life," said Maimon. "I thank the Justice Ministry's Department for International Agreements for its cooperation in this case, and I hope we can extend the number of cases in which the extradition process is applied."