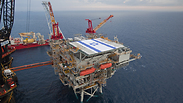 Tamar gas field
Photo: Albatross
Israeli conglomerate Delek Group is examining a spin-off of its oil and gas activities, saying it could help maximize value for shareholders by separately listing a bunch of assets which one analyst valued at some $3.6 billion.

Delek, which is 63% held by billionaire Yitzhak Tshuva, has major shares in a number of newly discovered gas fields off Israel's coast including Tamar and Leviathan.

Natural Gas

Energy and water resources minister reminds companies that their gas field must supply needs of Israeli market

The Tamar field, which Delek developed together with Texas-based Noble Energy, has estimated reserves of 10 trillion cubic feet (tcf) and began production in late March.

Nearby Leviathan, with an estimated 19 tcf of gas reserves, is set to come online in 2016 or 2017. Israel's High Court has upheld a government decision to allow exports of 40% of offshore reserves.

UBS analyst Roni Biron estimates Delek's exploration and production (E&P) activities account for 77% of group net asset value (NAV), which he put at NIS 16.39 billion ($4.7 billion). The rest consists of downstream operations in Israel, Europe and the United States, as well as insurance and water desalination.

Shares in Delek Group, which has a market value of $4.3 billion, were up 4% to NIS 1333 in afternoon trading in Tel Aviv on Tuesday.

Biron said Delek is the only Israeli E&P vehicle not structured as a limited partnership and its holding structure had made it less popular among international investors.

"Consequently, Delek had already adopted a strategy of streamlining its structure around E&P, a process which could now be expedited," said Biron, who rates Delek shares "neutral". "We therefore believe that this strategic move, if implemented, could boost Delek's E&P profile."

A senior Israeli fund manager invested in Delek said the split would not increase value as Delek does not trade at a discount to its NAV. "What it will do is make it easier for foreigners to invest in the company," he said.

The fund manager added this will not likely be the final step in Delek's restructuring, as he believes the company would eventually seek to merge all the energy units together.
Preference for London
Shares in the new energy company, which would be incorporated outside Israel, would be registered to trade on a foreign bourse, either alongside or in addition to the Tel Aviv Stock Exchange, Delek said in a statement.

Delek's management said the company's preference is to list the new company in London.

Shares in the new company would be given to existing group shareholders of Delek in proportion to their respective holdings. Delek Group shares and bonds will continue to trade in Tel Aviv.

Delek would transfer to the new company its holdings in Delek Energy Systems, Delek Drilling, Avner Oil Exploration, Cohen Development & Industrial Buildings and Navitas Petroleum, as well as its rights in the Ashkelon and Noa leases and its right to receive royalties from the energy sector.

The split will enable Delek and the new company "to act as independent companies ... thus contributing to the exposure of the respective assets of each company to a larger and more targeted investor market," Delek said.

Avner and Delek Drilling each have a 22.67% stake in Leviathan, the world's largest offshore gas find of the past decade. Noble has a 39.66% stake and Israel's Ratio Oil Exploration holds the remaining 15% .

Noble has a 36% stake in Tamar while Avner and Delek Drilling together hold 31.25% and Isramco Negev has a 28.75% stake.

Delek Drilling shares were up 0.8% while Avner rose 1.3%.