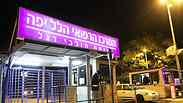 Netanyahu temporarily incapacitated because of medical examination
Photo: Ido Erez
Prime Minister Benjamin Netanyahu was temporarily incapacitated because of a routine medical examination Wednesday morning.

Netanyahu underwent a routine gastrointestinal check in order to complete his annual medical report that he makes public each year. Foreign Minister Avigdor Lieberman filled the top position during the procedure.

Prime Minister Benjamin Netanyahu returned from his medical check after roughly an hour.

Related stories:

The Prime Minister's Office said that Netanyahu successfully underwent the examination, which was conducted by Prof. Eran Goldin, the head of the hospital's gastroenterology department.

During the examination a polyp was removed from Netanyahu's large intestine. Netanyahu's personal physician, Dr. Zvi Herman Berkowitz, said the recent medical examinations into the prime minister's health have showed that his health is completely in order.

Last Saturday Netanyahu was taken to Hillel Yaffe Medical Center, after suffering from nasal problems and a bad headache. The Netanyahu family has a private home in Caesarea, some 10 kilometers from Hadera.

The prime minister was admitted upon arrival, and was released a short time later in good condition.

In August, Netanyahu underwent an operation for an umbilical hernia at Hadassah Medical Center, Mount Scopus in Jerusalem.

The hour-long procedure was successful, and conducted under general anesthetic. The prime minister returned to work several days after leaving hospital.
Receive Ynetnews updates directly to your desktop