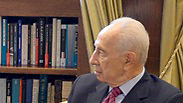 Shimon Peres
Photo: Haim Tzach, GPO
Israeli President Shimon Peres was handed a petition Wednesday, signed by 106 members of Knesset, demanding the release of convicted spy Jonathan Pollard.

Peres met with MKs Ayelet Shaked (Habayit Hayehudi) and Nachman Shai (Labor), as well as the leader of the lobby to free Pollard, and promised them that he would pass the petition over to US President Barack Obama.

"It's my honor to be part of this important mitzvah (good deed) on behalf of the MKs and the entire nation," he said.

Related stories:

Shai handed the petition, signed by 18 ministers, to Peres, saying he hoped the president would rally the cause for Pollard's release. "Our request is simple and important," Shai said. "Free Jonathan Pollard."

Shaked said freeing Pollard was something that all of the Knesset agreed upon.

"Freeing Jonathan Pollard is a national issue, and all the members of Knesset, including Arab members, agree about it," she said. "It's the only issue where there is a complete consensus."

They said the consensus was in part due to the humanitarian side in the issue.

Peres said it was his duty to bring such a consensus to the forefront of Obama's agenda.

"I will do this with pride, and I see it as an obligation and an honor," he said. "I brought up the subject before to other US presidents, as well as Obama, and I don't remember there being such an agreement within all the parties on any other humanitarian or political issue."

Efi Lahav, chairman of the Free Pollard committee, told Peres that from his visits he knows that Pollard's health is deteriorating and he needs to be released immediately.

"His medical is condition is terrible," he said. "The hourglass is almost empty, and it might be empty already."
Receive Ynetnews updates directly to your desktop