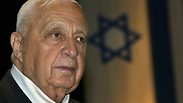 Ariel Sharon
Photo: Reuters
A significant deterioration in the condition of Ariel Sharon: The former prime minister, aged 85, is hospitalized at Chaim Sheba Medical Center at Tel Hashomer due to kidney failure.
About a month ago his condition worsened, and he was taken to emergency surgery and was stabilized, however in the past few days another troubling deterioration in his condition was noted.
Sharon, the 11th prime minister of Israel who was in office between 2001 and 2006, has been in a coma for eight years, after suffering a stroke during his term.
Related stories:
Gilad Sharon, the former prime minister's son, is in his father's room. The doctors are currently consulting in regards to Sharon's condition. Professor Mordechai (Motti) Ravid, director of Mayanei Hayeshua Medical Center, told Ynet that Sharon's kidneys have been damaged for some time.
"Among patients such as Sharon there is always a chronic infection that spreads in the kidneys, and that is what leads him to the crucial state he is in," said Professor Ravid, who noted that Sharon's blood pressure is stable, though this condition may change soon.
The senior physician explained that "kidney failure is a condition in which the kidney is unable to filter out the toxins in the blood properly. In a healthy person, 20% of the blood passes every minute in the kidneys, which are used as sophisticated filters for toxins in the blood and secretes them in the urine. When they do not function properly, acids that cannot be released are accumulated and they harm vital processes such as heart rate and breathing."
The first signs of a medical crisis came in late December 2005, when Sharon suffered a light stroke and was hospitalized for several days at Hadassah Ein Kerem Hospital in Jerusalem.
On January 4, 2006, just days after returning to his seat as prime minister, he suffered another critical stroke and was once again admitted to the hospital. His powers were transferred to then Deputy Prime Minister Ehud Olmert, who later became acting prime minister.
The first operation on Sharon's brain was conducted by four senior Hadassah doctors. Though they managed to stop the internal bleeding in his brain, his condition continued to deteriorate while still admitted in the intensive care unit at the Department of Neurosurgery. During the entire time, Sharon's sons and closest advisers were with him at the hospital. The president, rabbis, politicians and world leaders all prayed for his health.