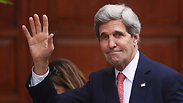 US Secretary of State John Kerry
Photo: Reuters
The expected visit of US Secretary of State John Kerry on Thursday is accompanied by great expectations on the Israeli side.

"In fact, Kerry will build the foundations (for a deal)", said a senior Israeli source, who is involved in the negotiations with the Palestinians. "He will present the (agreement) outline, and will demand both sides to act within it. There will be no fluctuation from these boundaries in the future, which is why this visit is so important. It is advised not to underestimate it."

Israel anxiously awaits the framework document which is expected to be brought forth by Kerry. At the moment, apart from reaching a permanent agreement, the Americans' main goal is to prevent the failure of the talks, a matter on which both Kerry and Prime Minister Benjamin Netanyahu concur.

Related stories:

Netanyahu unequivocally clarified this week in a Likud faction meeting what is the true Israeli interest under his leadership: Not a deal, but rather a process. Therefore, he now seeks to extend the talks beyond the allotted nine months. The US is willing to concede to the extension, so it seems, provided that both sides line up in recent weeks to an agreed outline presented by Kerry.

However, the Israeli leadership has no doubt regarding the unwillingness of Palestinian leader Mahmoud Abbas to sign a deal.

Kerry is expected to land with an Israeli-Palestinian framework agreement under his wing. The agreement bears one goal: To overcome the nine months barrier set for the negotiations and allow the persistence of the dialogue. Therefore the framework agreement includes the most important aspects for both parties: Security for Israel and a state for the Palestinians.
Nobel Peace Prize?
Another question that arises is what drives US secretary of state in his visits to the region. Previous Secretary of State Hillary Clinton came to Israel five times during her tenure, and was cautious not to get involved in the Israeli-Palestinian conflict, for fear it would hurt her chances to run for presidency in the future.

The current state secretary, a second-generation diplomat, decided to push the issue forward like a bulldozer, against all odds, as much pessimism is expressed by all those involved.

This is where his chance lies to enter the world's hall of fame and possibly be awarded a Nobel Peace Prize.

But even those who disagree with Kerry, from senior ministers to junior Knesset Members, praise his determination and willingness to sacrifice so much time in promoting the process.

"He is determined and takes on this mission very seriously," said a senior Labor party member a few days ago. Ministers have also applauded Kerry's great efforts.

Kerry invests in the conflict more than in any other subject, contrary to a previous White House decision to transfer the weight of American diplomacy to the Far East.

He wants to calm the Palestinians and make known that even if the talks prolong, the end of the road includes a state with agreed boundaries. He seeks to calm the Israelis as well and give a message by which the framework agreement incorporation a solution to Israel's security concerns.

The top American diplomat clearly knows there is no chance to reach a deal within nine months, and that is why he rushes to complete the framework agreement in his upcoming visit, or at the latest during his next one, in order to stay ahead of the April deadline and ensure the continuation of talks in the next few months.

The short document he will propose contains about 10 pages, without appendices, and according to the New York Times, neither side will eventually sign it. The White House still deliberates whether to publish the entire report. The supporters believe that it would show both the Israelis and Palestinians the concessions they would have to get accustomed to.

From an American perspective, drawing an outline for a possible Palestinian state may solve the issue of construction in the settlements: Israel would only be allowed to build in settlements that would remain under its sovereignty. All other core issues, notably Jerusalem and the refugees, would be discussed at a later time.

Yitzhak Benhorin contributed to this report