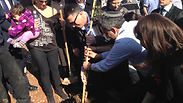 Gideon Sa'ar and Ze'ev Elkin in the Jordan Valley
Hours before Secretary of State John Kerry arrived in Israel on his latest trip to push ahead with the peace process, senior members of Prime Minister Benjamin Netanyahu's Likud party staked out their stance on territorial concessions Thursday with a tour of the Jordan Valley.

The area, which covers the eastern West Bank and straddles the border with Jordan, has been the subject of controversy in recent weeks due an annexation plan proposed by rightist lawmakers. Thursday's visit by cabinet ministers and Knesset members was a clear sign by Likud members to ceding any land in the Jordan Valley.

"The place in which we stand highlights the dilemma of where the eastern border of Israel will run," declared Interior Minister Gideon Sa'ar at the start of the tour. "Will it be the Jordan River, or, God forbid, next to Netanya or Kfar Saba?" If Israel did not stand firm on the issue of the Jordan Valley, he added, it would be left without "strategic depth".

Sa'ar also touched on the security provisions proposed by the US for Israel and the Palestinians as part of efforts to drive forward the peace process, saying that no organization but the IDF could guard the border. "Where there is no settlement, there will be no IDF. Where there is no IDF, there will be terrorism. Our stance is clear: The Jordan Valley is Israeli and will remain Israeli. When we placed our trust in others we saw that this was an illusion. It's wrong to differentiate between security and settlement."

Sa'ar was accompanied on the tour by Deputy Defense Minister Ze'ev Elkin, coalition chairman Yariv Levin and Likud MKs Reuven Rivlin, Miri Regev and Tzipi Hotovely. They were joined by Habayit Hayehudi lawmakers Shuli Mualem, Orit Struck and Eli Ben-Dahan, the deputy religious affairs minister.

During the groundbreaking ceremony for a new neighborhood in Gitit, Elkin drew a comparison between territorial concessions by Israel and the Holocaust.

"For anyone proposing that Israel withdraw to the 1967 (pre-Six-Day War) borders, Abban Eban has already given an answer: The 1967 borders are Auschwitz borders. The answer from a Likud government to these types of proposals is 'no'. It's right to talk to our neighbors, but it's nonsensical that they are asking us to surrender the security of Israel's citizens and the vital interests of the state. He who gives up the Jordan Valley will turn Kfar Saba into Sderot," he warned.