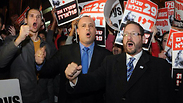 Pollard protest
Photo: Yair Goldshtuf
More than 300 people gathered outside the Metzudat David Hotel in Jerusalem, where US Secretary of State John Kerry and Prime Minister Benjamin Netanyahu met Thursday evening, calling for Jonathan Pollard's release.
MKs Yehiel Bar (Labor) and Dov Lipman (Yesh Atid) were at the forefront of the Bar Ilan student union-organized demonstration.
Bar said that after Israel has released terrorists due to American pressure, it is hard to stomach the hypocrisy that the US isn't willing to release Pollard.
Related stories:
"This has turned into a giant wound in the people's heart and the Jewish nation's heart," Bar said. "Particularly because everyone understands that Jonathan Pollard has served time in an unproportional manner, beyond all logic. I am calling for the immediate release of Jonathan Pollard."
The chairman of the Bar Ilan Students' Union, Matan Bar Noy also said the situation was intolerable that Pollard was wasting away in jail.
"It's hard for us to accept that dozens of murderers have been freed, while one of ours is languishing away in prison," he said. "The students have said it is an obligation to join the struggle to free Pollard. I call upon the US secretary of state and president to free Pollard at once."
Receive Ynetnews updates directly to your desktop