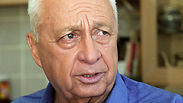 Ariel Sharon
Photo: David Rubinger
In the last 24 hours there has been further deterioration in the condition of former Prime Minister Ariel Sharon, and he is still at a critical state.

Test results indicate an infection in his blood, as the director of the Chaim Sheba Medical Center at Tel Hashomer, Professor Zeev Rotstein, informed the press. "There is danger to his life; the situation is not getting better," he said.

Sharon has been comatose for eight years. In recent days his conditioned worsened as he suffered kidney failure, and his state was defined critical and at immediate life risk.

Related stories:

In the briefing given by Professor Rotstein, he noted that the doctors are noting a slight deterioration in the former PM's organs. "Unfortunately, we see a multi-organ failure that is developing before our eyes, as can happen in such situations," he said. "As of now, the lab test and clinical tests all indicate towards the direction of deterioration. He is not in shock at the moment, but there is definitely slow and gradual deterioration in the functioning of Ariel Sharon's organs."

Rotstein added that "as time passes, it seems the situation is not improving. We usually understand what happens in such scenarios. Sharon's sons are by his bed. They are constantly holding his hand and he is not alone for even one moment. He receives palliative care, which of course include drugs to stabilize his condition in terms of circulatory system and heart vessels. In these situations we always witness infections, and there are signs that there is infection in Sharon's blood, and we attend to it."
Bidding farewell
Sources privy to the family said that Sharon's sons, Omri and Gilad, have come to terms with the situation and are preparing to bid their father farewell. "Unfortunately, they understand this is the end, these are Arik's last few hours or days. It's hard. We avoided this moment for eight years and now it is here, and we cannot avoid it," said an acquaintance of the family.

Since the morning hours, relative and close acquaintances of Sharon have come to the hospital. His sons Omri and Gilad were by his side until the wee hours of the night and returned early morning.

The hospital noted that there have been ups and downs in Sharon's condition in the past few months, however in recent days there is significant deterioration in the functioning of several critical organs in Sharon's body.

Sharon, 85, has been hospitalized since January 2006, after suffering a stroke while serving as prime minister. Sharon had a minor stroke in December 2005, after which he underwent a series of treatment at Hadassah Ein Kerem Hospital in Jerusalem.

Sharon is not admitted at the respiratory rehabilitation department at Chaim Sheba Medical Center at Tel Hashomer, with his family by his side. His kidney failure requires dialysis; however the unstable condition of his body does not allow that.

"I can't be a prophet. The feeling among the physicians treating him and his family, mainly the boys, is that there is a turn for the worse. Everyone's feeling is that this deterioration is very serious," said Professor Rotstein on Thursday.