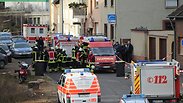 Euskirchen Friday
Photo: EPA
Police say a World War II bomb has exploded during construction work in a western German town, killing one person and wounding at least eight others.

The dpa news agency reported that police in Euskirchen, near Bonn, said the driver of a bulldozer was killed in Friday's explosion. Two people were seriously injured and six others suffered lighter injuries.

Related stories:

Unexploded World War II-era bombs are still discovered frequently in Germany, though it's relatively rare for those finds to result in death or injury.




In November 2013, more than 20,000 people were evacuated from their homes in the west German city of Dortmund, as authorities prepared to defuse a massive bomb left over from World War II.

The 4,000-pound (1,800-kilogram) bomb was discovered after experts analyzed old aerial photographs while searching for unexploded ordnance dropped by Allied aircraft over Germany's industrial Ruhr region.

A similar bomb found in 2011 prompted the evacuation of some 45,000 people in the city of Koblenz along the Rhine river.
Receive Ynetnews updates directly to your desktop