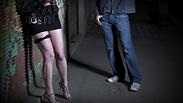 Illustration
Photo: Shutterstock
Police arrested 11 people Friday night for allegedly assaulting a transgender in south Tel Aviv. The suspects, a group of Yavne residents in their twenties, wore Purim masks as they attacked the woman with pepper spray.

The suspects fled the scene and were arrested after a brief pursuit. The transgender woman did not require medical treatment.

During questioning the suspects claimed they were pulling a prank and did not know the woman was transgender. They were placed under house arrest for five days.

Related stories:

The Israeli LGBT Association released a statement: "Such a severe attack joins the data presented in the Nir Katz Center for LGBT Violence Prevention's report, which show that the transgender community is the now main target of LGBT-related violence."

The statement continued, "The 2013 report clearly demonstrated that these attacks occur across the country, even in the center. The authorities must treat these cases with an iron fist as they treat all hate crimes."