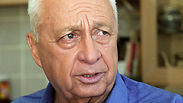 Ariel Sharon
Photo: David Rubinger
What will be Ariel Sharon's legacy?
As Ariel Sharon's condition deteriorates, US Secretary of State Kerry arrived for an addition push in peace talks with Palestinians. How will the man who built the post-1967 settlements but also withdrew from Gaza Strip be remembered, and what can his legacy serve the present?
After surviving for eight years in a coma, former Israeli Prime Minister Ariel Sharon's condition has deteriorated significantly and doctors say his demise is imminent. Sharon is receiving antibiotics and media reports say doctors told his family that he has only days to live.
The former prime minister suffered a massive stroke on January 4, 2006, and never regained consciousness although scans one-year ago showed brain activity in response certain stimuli.
Sharon's deterioration comes as US Secretary of State John Kerry is in the region yet again to try to get Israelis and Palestinians to move forward with peace talks under his aegis. Kerry is reportedly bringing with him a "framework agreement" on all outstanding issues including borders, refugees and the future of Jerusalem. Sharon, known for his encouragement to "take the hilltops" in the areas that Israel acquired in the 1967 war, was responsible for building thousands of homes in the area that Palestinians say must become part of the Palestinian state.
At the same time, Sharon was the prime minister that led Israel's withdrawal from the Gaza Strip in 2005 despite vocal and angry opposition from Israel's political right. He led the campaign to dismantle 17 communities in Gaza, as well as 4 in the West Bank, and to remove all Israeli soldiers from Gaza.
In the aftermath of the unilateral Israeli withdrawal, the Islamist Hamas terrorist movement took over Gaza and fired thousands of rockets at southern Israel. Many Israelis who oppose a withdrawal from large parts of the West Bank point to the experience of Gaza as proof of why Israel can never withdraw from there.
While it is impossible to know what Sharon would do if he were prime minister today Israelis and Palestinians often suggest they do. Some Palestinians, for instance, say that Sharon believed Israel should hold onto the West Bank forever.
"I don't think he ever intended pulling out from the West Bank," Ghassan Khatib, a professor at Bir Zeit University and former Palestinian government spokesman told The Media Line. "He was clear in saying that he is pulling out of Gaza in order to consolidate Israeli control and settlement presence in the West Bank."
Khatib does not believe that Sharon, if he had not had the stroke, would have continued toward a peace deal with the Palestinians.
"He was always right wing and always supportive of the continued Israeli control over historical Palestine including the West Bank and especially Jerusalem," Khatib said. "His political ideas and behavior were never compatible with the peace process requirements of two states. Arik Sharon was part of the right wing Israeli leadership that intended to continue controlling the occupied territories so it was never good news for the peace process."
But others in the region say they believe Sharon was a pragmatist rather than an ideologue and that he underwent a transformation in his later years. Soon after the Gaza withdrawal, Sharon founded the centrist Kadima party, which won the 2006 elections. Today Kadima has only two seats in the Israeli parliament, the Knesset.
"I saw with my own eyes that was ready for a deal (with the Palestinians)," Efraim Inbar, the director of the Begin-Sadat Center for Strategic Studies (BESA) at Bar Ilan University told The Media Line. "Soon after he was elected in 2001, he sent his son Omri to make a deal with (former Palestinian leader Yassir) Arafat, but Arafat wasn't ready. I am sure that Sharon wanted to make a deal."
Yet, at the same time, in September 2000, Sharon made a controversial visit to the Temple Mount, which many Palestinians say sparked the Second Intifada with its suicide bombers on buses around Israel. Others in Israel claim that Arafat had already planned the Intifada, and was looking for an excuse to start it.
Sharon is also known for his military exploits – like crossing the Suez Canal in 1973, but as well for his controversial role as defense minister during the Lebanon War in 1982. An Israeli commission of inquiry recommended he step down for not doing more to stop the massacre of Palestinians by Christian Phalangist troops under Israeli control in the Sabra and Shatilla refugee camps in Lebanon.
Sharon was a farmer and even when serving as prime minister he spent a lot of time on his ranch in Israel's Negev desert in the south. He and then-President George H.W. Bush bonded over their shared agricultural background.
Before becoming Prime Minister, Sharon was Minister of National Infrastructure in Benjamin Netanyahu's first government in 1996. His spokesman then, and for the next 15 years, Ra'anan Gissin, told The Media Line that Sharon helped develop Israel's relationship with China and Russia, as well as develop Israel's natural gas industry that is poised to start bringing billions of dollars into the economy.
"I think he will go down in history as the person who shaped the nature of Israel and Israeli society for years to come," Gissin said. "He was always looking for an unconventional approach. When he decided to do something, he took the decision and the responsibility for it. He was always looking ahead to the future."
This article is by Linda Gradstein
Felice Friedson contributed to this report.
Reprinted with permission from The Media Line
Receive Ynetnews updates directly to your desktop