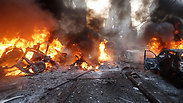 Beirut blast
Archive photo: AFP
An al-Qaeda linked group has claimed responsibility for a suicide car bombing last week in a Shiite-dominated south Beirut neighborhood.

The Islamic State of Iraq and the Levant (ISIL) made the claim on Saturday in a statement posted onto a website page used by Sunni militants as news broke that fellow Syrian rebel groups have turned their guns on the al-Qaeda offshoot.


The Al-Qaeda-linked ISIL claimed responsibility for the car bombing that rocked Hezbollah's stronghold of Dahiyeh on Thursday.

Related stories:

"(ISIL) was capable of crossing the border and breaching the security of the satanic party in Lebanon (Hezbollah) and striking it in its own headquarters in the southern suburb of Beirut on Thursday," a statement released Saturday by the Islamist organization read, Now Lebanon reported. The radical group also warned that further explosions will hit pro-Hezbollah neighborhoods.

"(This car bomb was) the first of a heavy bill that awaits those criminals," the statement added.

At least five people were killed in the Thursday attack and it was the latest in a wave of attacks to hit Lebanon in recent months as Syria's civil war spills into its smaller neighbor.

An alliance of Islamist and other rebel factions battled fighters from the Islamic State in Iraq and the Levant (ISIL) across north-western Syria on Saturday in apparently coordinated strikes against the powerful al Qaeda-linked group.

Activists said dozens of fighters had been killed in the clashes, which started on Friday and may have been provoked by increasing resentment against the radical ISIL fighters, many of them foreign jihadis.

One group of fighters battling the ISIL was the newly formed Mujahideen Army, an alliance of eight brigades who accused the al Qaeda affiliate of hijacking their struggle to topple President Bashar al-Assad.

It said ISIL fighters were "undermining stability and security in liberated areas" through theft, kidnapping and trying to impose their own brand of Islam, and vowed to fight them until ISIL was disbanded or driven out of Syria.

The infighting amongst Assad's opponents has strengthened his hand ahead of planned peace talks in Geneva on Jan. 22. Assad, backed by Shi'ite fighters from Iraq and Lebanon's Hezbollah militia, has pushed back rebels around Damascus and in central Syria, and faces little pressure to make concessions.

Fighters from the Islamic Front, made up of several Islamist brigades which have been close with ISIL in the past, were engaged in heavy clashes with the group in northern Aleppo province, according to the Syrian Observatory for Human Rights.

The Observatory, a monitoring group based in Britain, said at least 60 people had been killed in fighting which it described as a major challenge to ISIL's control in Aleppo and neighbouring Idlib province.

The ISIL and another al Qaeda affiliate, the Nusra Front, together with Islamist fighters from the Islamic Front, have eclipsed the Free Syrian Army which Western powers had hoped to build into a moderate force capable of toppling Assad.

That impotence was highlighted in November when the FSA's military command lost control of a military base and main weapons depot close to the Turkish border.
Battling al-Qaeda oppression
Assad's main political opponents in exile, the National Coalition, sought to portray Saturday's clashes as a counter assault by the FSA against ISIL's "authoritarian oppression"

"The Syrian people clearly have rejected al Qaeda's attempts to establish a presence in the liberated territories," coalition member Monzer Akbik said. "The solution to fighting extremism in Syria is to strengthen the Free Syrian Army at this critical juncture".

The coalition said the fighting erupted after ISIL gunmen fired into a crowd of civilians in the Aleppo village of Kafr Takharim who were commemorating the death in ISIL custody of a prominent Syrian doctor and rebel commander, Hussein Suleiman.

Suleiman's body was handed over by ISIL on Tuesday as part of a prisoner swap between rival rebel forces. Video footage of his corpse showed signs of beating and one ear was cut off.

Several demonstrations were held across Aleppo to mark Suleiman's death on Friday. Some brought together several hundred protesters, a dim echo of the many thousands who took to the streets for anti-Assad protests in the early months of the uprising, before it turned into armed insurgency and civil war.

More than 100,000 people have been killed in nearly three years of conflict. More than two million refugees have fled abroad and another 6.5 million are internally displaced within the country of 23 million, the United Nations says.

The war pits Sunni rebels against forces loyal to Assad, from the Alawite faith which is an offshoot of Shiite Islam, and has divided the Middle East along sectarian lines, with Sunni states such as Turkey and the Gulf monarchies backing the rebels, and Shiite Iran and Hezbollah supporting Assad.

Western reluctance to intervene militarily in the conflict - in contrast to the rapid NATO involvement in Libya in 2011 - has been heightened by concerns about the growth of al Qaeda-linked Sunni Muslim groups in rebel areas of north and eastern Syria.

Their spread inside Syria has been matched across the border in western Iraq, where ISIL has tightened its grip in the Sunni Muslim province of Anbar.

The Associated Press and AFP contributed to this report