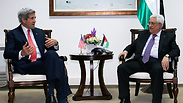 Kerry with Abbas
Photo: AP
Israel and the Palestinians are making progress towards reaching a framework peace agreement but they are not there yet, US Secretary of State John Kerry told reporters on Saturday.

Kerry was speaking after about three hours of talks with Palestinian President Mahmoud Abbas in Ramallah, the Palestinian seat of government in the West Bank.

"I am confident that the talks we have had in the last two days have already fleshed out and even resolved certain kinds of issues and presented new opportunities for others," he said after the meeting with Abbas.

"We are not there yet, but we are making progress," Kerry told reporters in Ramallah, seat of Abbas' government. Kerry is on his tenth trip to the region in the past year as he seeks to secure a peace deal. He said he would visit Saudi Arabia on Sunday to discuss the talks with King Abdullah.

"Tomorrow I will go to Jordan to meet with King Abdullah (II) and Foreign Minister Nasser Judeh, and from there I will fly to Saudi Arabia where I will meet with (Saudi) King Abdullah in order to talk about where we are and what we're trying to do in the days ahead," he said

US Secretary of State John Kerry held fresh talks Saturday with Palestinian leader Mahmud Abbas seeking to brush aside bitter Israeli-Palestinian recriminations and advance difficult peace negotiations.

Related stories:

After five months of mostly sticking to pledges not to air their grievances in public, the mutual distrust between the two sides has burst into the open with each accusing the other of trying to scupper the talks. US officials have acknowledged that a sought-after agreement on a framework to guide the negotiations forward would not be reached on this trip, signaling that Kerry may return to Israel soon.
Serious, serious concerns
The top US diplomat, who has made it a personal quest to reach a long-elusive peace deal, is on his 10th trip back to the region since becoming secretary of state in March. With a late April deadline looming, Kerry has pledged to work even more intensively with the two sides in the coming months.
But he came under fire from veteran US Senator John McCain, who also met with Abbas on Saturday during a visit to the region.
McCain said he shared Netanyahu's worries about the emerging framework, and whether a deal would jeopardize Israel's security.
"Netanyahu has serious, serious concerns about the plan as has been presented to him, whether it be on the ability of Israel to defend its borders or the reliability of a Palestinian state and their intentions," McCain said after meeting the premier on Friday.
Top Palestinian official Yasser Abed Rabbo has also been unenthusiastic about the proposed framework accord, saying Thursday it "limits Palestinian sovereignty" on the West Bank.
US officials have refused to release any details about the framework, which they hope to conclude soon.
Only hours after meeting with Abbas for six hours over dinner Friday, Kerry's motorcade swept back into the Palestinian leader's West Bank headquarters in Ramallah for another three hours of scheduled talks.
On Friday, about 100 Palestinians from the left-wing Democratic Front for the Liberation of Palestine (DFLP) protested in Ramallah's central square waving Palestinian and red flags.
Israeli Prime Minister Benjamin Netanyahu had earlier accused Abbas and the Palestinians of not being committed to peace.
But Kerry was quoted as telling American students on Friday that he remained hopeful.
"I am a believer in the possibility... we could achieve something," Kerry was quoted as telling students in an impromptu appearance at a gathering at his Jerusalem hotel. "But it will be very, very difficult."
One student was quoted as saying that Kerry explained he was "wading through a volatile cocktail of issues."
The direct negotiations had been frozen for almost three years, but after intense diplomacy by Kerry the two sides agreed to resume talks in July and vowed to remain at the table for the next nine months.
Kerry stressed the framework was building on ideas from both sides over five months of talks, and would set out the agreements and disagreements on the core issues.
These include the contours of a future Palestinian state, refugees, the fate of Jerusalem, security and mutual recognition, Kerry said.
AFP, Reuters and the Associated Press contributed to this report
Receive Ynetnews updates directly to your desktop